United campaign by media companies highlights government moves to penalise whistleblowing and criminalise journalism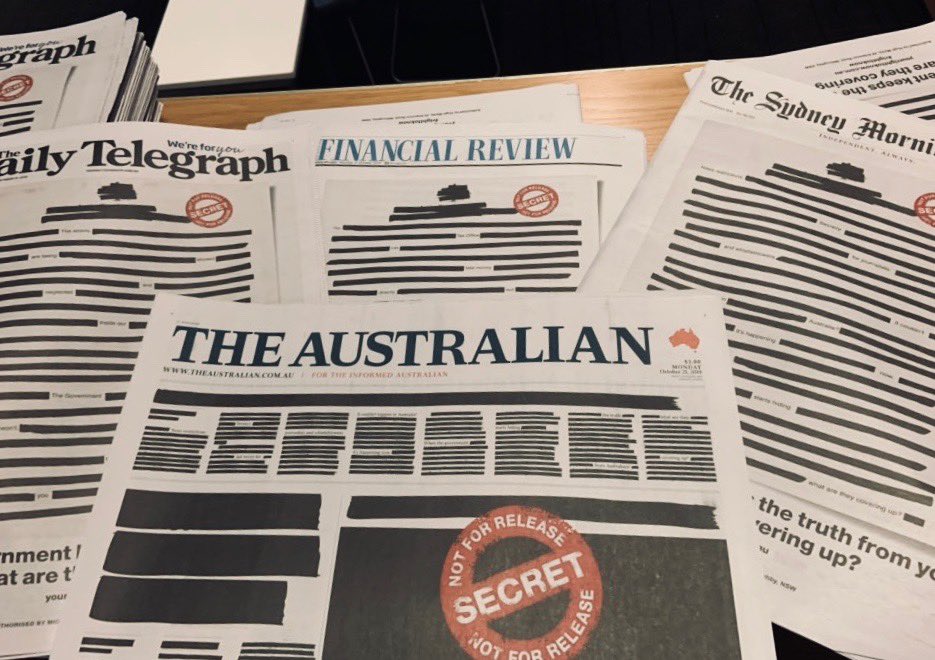 WEB DESK
In a rare show of unity in the Australian media, the front page of all major newspapers in country was blacked out on Monday as part of a protest against moves by successive federal governments to penalise whistleblowing and, in some cases, criminalise journalism.
The campaign, by the Australia's Right to Know Coalition, follows raids on the ABC's Sydney headquarters and the home of a News Corp journalist in June, the legality of which is being challenged in the high court.
It also comes as Witness K and his lawyer, Bernard Collaery, are facing jail time for revealing that the Australian Secret Intelligence Service bugged the office Timor-Leste officials during a multimillion dollar resource negotiation in 2004, and while Australian Tax Office whistleblower Richard Boyle is facing a maximum 161 years in prison for revealing that the ATO was abusing its powers.
The government said it backed press freedom but "no one was above the law".
In June, police raids on the Australian Broadcasting Corporation (ABC) and the home of a News Corp Australia journalist generated a huge backlash.
The media organisations said the raids had been conducted over articles which had relied on leaks from whistleblowers. One detailed allegations of war crimes, while the other reported an alleged attempt by a government agency to spy on Australian citizens.
The campaign on Monday, by the Right to Know Coalition, was also supported by several TV, radio and online outlets.