Afghanistan 252/8 (50)
India 252 (49.5)
And that's a tie !!!
Another amazing game of cricket. Three thrilling games in a row for Afghanistan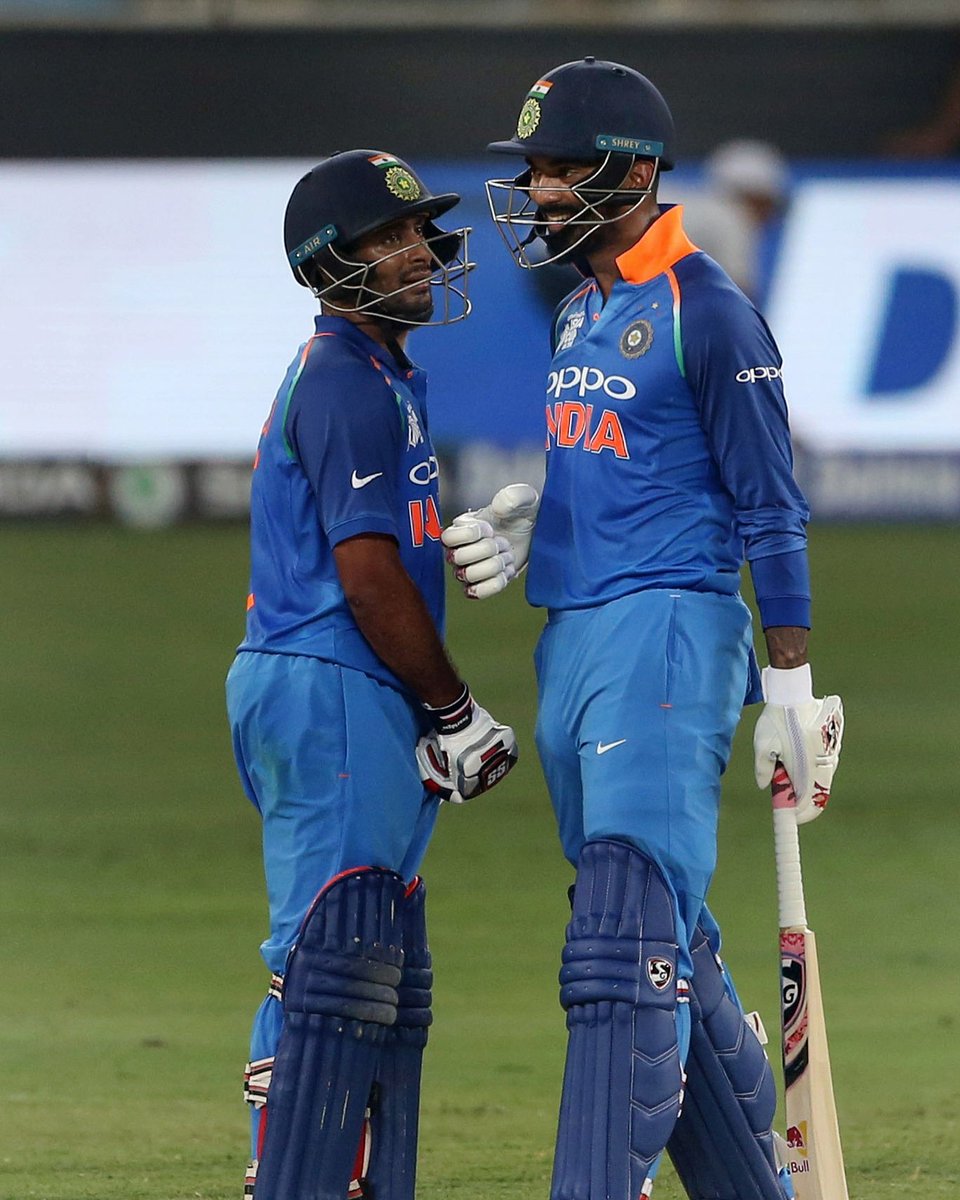 Match Tied
TOP BATSMEN – INDIA
Lokesh Rahul 60 (66)
Ambati Rayudu 57 (49)
TOP BOWLERS – AFGHANISTAN
Aftab Alam2/53(10)
Rashid Khan2/41(9.5)
EARLIER Afghanistan captain Asghar Afghan won the toss and opted to bat in the Super Four Asia Cup match against India on Tuesday.
Electing to bat after winning the toss, they made 252 for 8 in the stipulated 50 overs. Opener Mohammed Shehzad hit a fine 124 off 116 balls while Mohammed Nabi contributed 64 runs.
The match was only of academic interest, as India have already sealed their place in the final of the six-nation tournament
The match is inconsequential as title holders India have already qualified for the final to be played in Dubai on Friday while Afghanistan are out of contention.
The second finalist will be decided in the last Super Four game between Pakistan and Bangladesh in Abu Dhabi on Wednesday.
India have rested skipper Rohit Sharma, Shikhar Dhawan, Bhuvneshwar Kumar, Jasprit Bumrah and Yuzvendra Chahal with Mahendra Singh Dhoni taking over as captain and leading he team for the 200th time in a one-day international.
Afghanistan included Najibullah Zadran for Samiullah Shinwari.
Detailed Scorecard
Lokesh Rahul
lbw b Rashid Khan
60
66
5
1
Ambati Rayudu
c Najibullah Zadran b Mohammad Nabi
57
49
4
4
Dinesh Karthik
lbw b Mohammad Nabi
44
66
4
0
MS Dhoni
lbw b Javed Ahmadi
8
17
0
0
Manish Pandey
c Mohammad Shahzad b Aftab Alam
8
15
0
0
Kedar Jadhav
run out (Mujeeb Ur Rahman)
19
26
2
0
Ravindra Jadeja
c Najibullah Zadran b Rashid Khan
25
34
1
0
Deepak Chahar
b Aftab Alam
12
14
1
0
Kuldeep Yadav
run out (Gulbadin Naib)
9
11
0
0
Siddarth Kaul
run out (Hashmatullah Shahidi)
0
1
0
0
Extras: 9
(B: 0, LB: 5, NB: 1, WD: 3, P: 0)
Ambati Rayudu
1-110 
(17.1)
Manish Pandey
4-166 
(30.3)
Dinesh Karthik
6-205 
(39.4)
Deepak Chahar
7-226 
(44.5)
Kuldeep Yadav
8-242 
(48.1)
Siddarth Kaul
9-245 
(48.5)
Ravindra Jadeja
10-252 
(49.5)