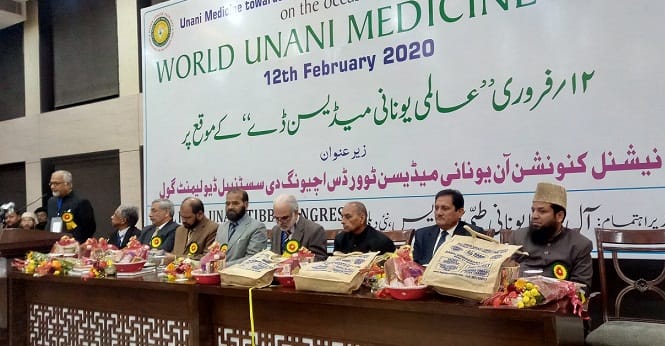 Our Correspondent / New Delhi
All India Unanai Tibbi Congress, AIUTC on Wednesday observed World Unani Day with a big conference on " Unani Medicine towards achieving Sustainable Development Goal".
The main objective of World Unani Day is to spread awareness about health care delivery through Unani system of medicine through its preventive and curative philosophy.
A souvenir on the life and achievement of Padamshri Hakeem Saifuddin Ahmad was also released on the occasion.
The day is observed every year on 12th February.
This day is celebrated every year to mark the birth anniversary of great Unani scholar and social reformer Hakim Ajmal Khan. He was an eminent Indian Unani physician who was a versatile genius, a great scholar, a social reformer, a noted freedom fighter, a Unani medical educationist and founder of scientific research in Unani System of Medicine. He was one of the founders of the Jamia Millia Islamia in New Delhi.
The Unani system of medicine has a long and impressive record in India. It was introduced in India by the Arabs and Persians sometime around the eleventh century. Today, India is one of the leading countries as far as the practice of Unani medicine is concerned. It has the largest number of Unani educational, research and health care institutions.
The unani system of medicine originated in Greece. Its foundation was laid by Hippocrates. The system owes its present form to the Arabs who not only saved much of the Greek literature by rendering it into Arabic but also enriched the medicine of their day with their own contributions.
—