By Sachin Murnal
Last week, I was in Hyderabad for some office work, and finally had a weekend break. So my colleagues and I planned to take a day trip to Nagarjuna Sagar dam, the second-largest water reservoir in the country. Nagarjuna Sagar dam is located in the Nagarjuna Sagar area which is a beautiful region in the Nalgonda district of Telangana. A break in the lap of nature can always rejuvenate you and this natural beauty is definitely a breakthrough from the monotony of life.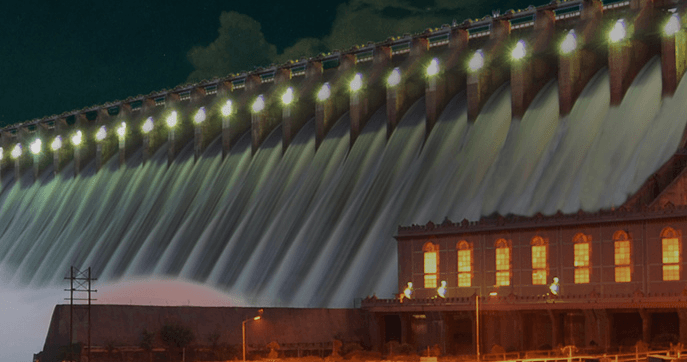 How to reach the Nagarjuna Sagar dam: Rail or Road?
Nagarjuna Sagar dam is accessible by rail as well as road. There is a direct train connecting Hyderabad to Nadikudi Junction. So if you are willing to take the rail route, you can opt for this train. From Nadikudi, Nagarjuna Sagar Dam is at a distance of about 60 km. You can also take a bus for the same. However, if you are not a fan of travelling by train, you can get a car on rent in Hyderabad with a driver for your journey to Nagarjuna Sagar dam. I myself liked the road route better, as there are some good places to be explored en route Nagarjuna Sagar dam. So, there are two routes for this journey: Route 1: Hyderabad – Devarakonda – Nagarjuna Sagar and Route 2: Hyderabad – Nalgonda – Nagarjuna Sagar
Route 1 provides you a half an hour lead than the Route 2. We wanted to save some time and reach our destination at the earliest, which is why we preferred to take route one.
Exploring the route to the beautiful Nagarjuna Sagar dam.
The route through Devarakonda had captivating beauty all around. Devarakonda lies almost midway between Hyderabad and Nagarjuna Sagar dam and is located at a distance of about 104 km from Hyderabad and 58 km from Nagarjuna Sagar. We stopped by at this place to explore the history and nature alike. The region of Devarakonda is surrounded in all directions with beautiful hills and lush green vegetation. If you are photoholic, scenic beauty is great for photography too. Talking about history, the Devarakonda Fort is a major attraction here, which includes some amount of historical artefacts, though the condition of the fort is dilapidated and in ruins. But even then it attracts history lovers.
A rejuvenating day out at the mesmerizing Nagarjuna Sagar dam.
Nagarjuna Sagar is located at a distance of about 153 km from Hyderabad. After enjoying the beautiful route, we reached this natural getaway at about 11 am. For those who always look forward to savouring the beauty of nature, this dam is more of a heaven. Amidst forests, wildlife, waterfalls and lakes, Nagarjuna Sagar Dam is one of the most visited tourist attractions in the region. Built across the Krishna river, the dam is more like a fortress with height and area that leaves you awestruck. You can do a lot here, including boating, fishing, and photography. Near the dam, is a crystal clear waterfall named the Ethipothala Waterfall. It falls from a height of about 70 ft and is situated at a distance of about 15 km from Nagarjuna Sagar. Sitting in knee-deep water, listening to the melodious gushing of water, and savouring the natural beauty, was a memorable experience.
Nagarjuna Sagar wildlife sanctuary
How about finding yourself capturing the captivating beauty of richly diverse wildlife? If you are keen on doing so, then Nagarjuna Sagar Wildlife Sanctuary is your calling. Established in the year 1983, it is a tiger reserve and is home to some of the most beautiful and rarest species of plants, animals, and birds. The major species which can be spotted here include tiger, leopard, Indian peafowl, chinkara, and sloth.
Ending the day….
The beauty of the place, the harmony of nature, the mesmerizing waterfall and the endless span of the second-largest reservoir, all added to the wonderful experience of my trip to Nagarjuna Sagar. Also, I strongly suggest booking a hassle-free cab in Hyderabad for the best possible experience. Not only the destination but the journey also became a treat with hassle-free travels.
Promotional Content