Book "Moving On Moving Forward: A Year in Office" by Venkaiah Naidu released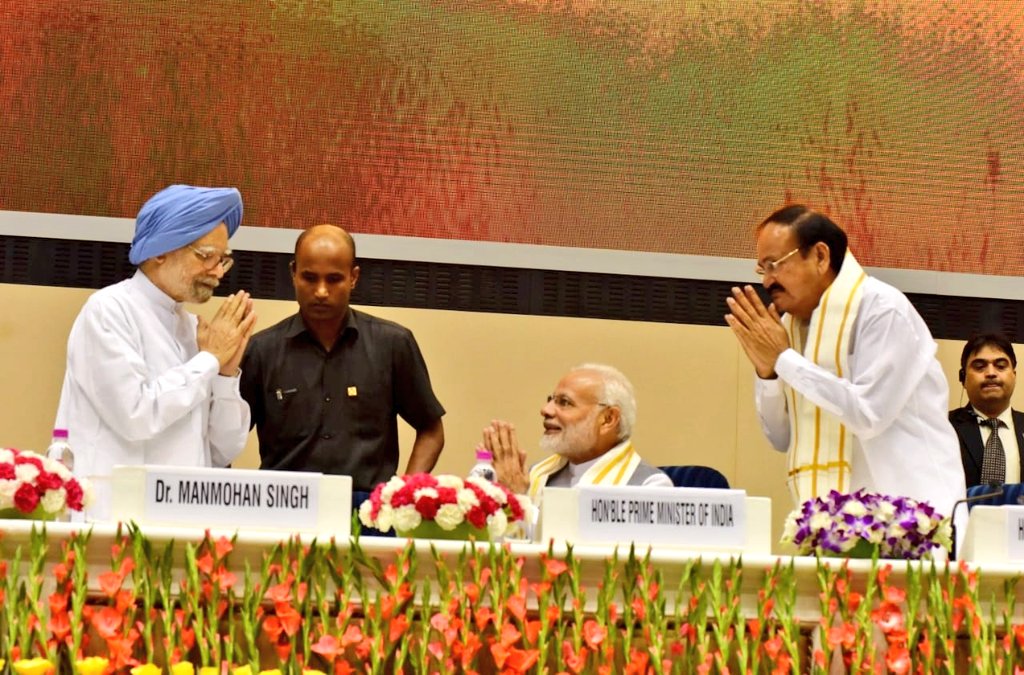 Our Correspondent / New Delhi
Vice President of India, Venkaiah Naidu Sunday urged political parties to rise above their party interests on issues of national importance.
Addressing a gathering after the release of his book "Moving On Moving Forward: A Year in Office" in New Delhi by Prime Minister Narendra Modi, Mr Naidu said that the parties must evolve a consensus on the code of conduct for their members both inside and outside legislatures.
He warned that unless there is consensus on code of conduct for their members, people might soon lose faith in the country's political processes and institutions.
Emphasising the importance of transparency and accountability in public life, Mr Naidu said, anti-defection laws should be implemented in letter and spirit expeditiously. He also said that election petition and criminal cases against political leaders need to be disposed of within a reasonable time frame.
I made an effort to promote public discourse on four key issues of broader concern. These were: The huge untapped demographic dividend; An effective and enabling eco-system for remunerative farming in the country; #BookLaunch pic.twitter.com/RAlGsMTXhk

— VicePresidentOfIndia (@VPSecretariat) September 2, 2018
The function was attended by Prime Minister Narendra Modi, former Prime Minister Manmohan Singh, H D Deve Gowda Lok Sabha speaker and Sumitra Mahajan, Finance Minister Arun Jaitley and other dignitaries.
In his speech, Prime Minister Mr Modi lauded Mr Naidu's brilliant performance during his tenure as minister in the union cabinet. He said, the Pradhan Mantri Gram Sadak Yojana came into being due to the efforts of Mr Naidu.
In her speech, Lok Sabha Speaker Sumitra Mahajan said Mr Naidu is a great example that a person from humble background can occupy the highest office of the country.
Former Prime Minister Manmohan Singh in his speech said, Mr Naidu has brought enormous administrative and political experience to the office of Vice President.
Former Prime Minister H D Devegowda said, Mr Naidu is doing his best to protect the dignity and decency of the Rajya Sabha.