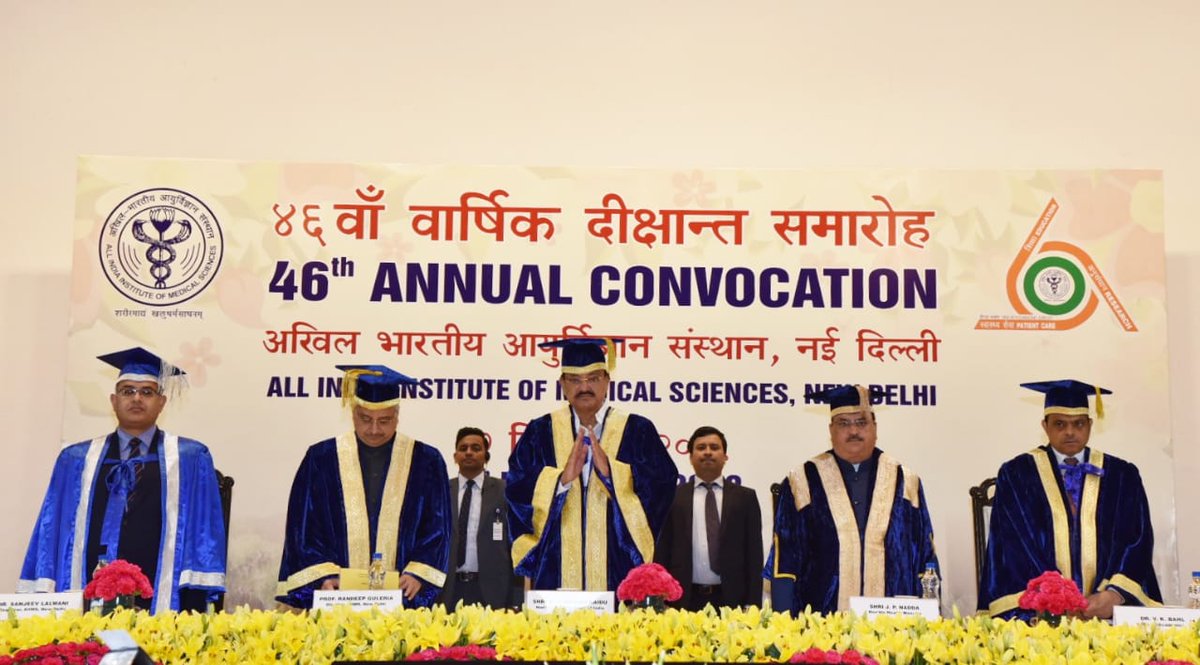 A Akhter / New Delhi
Vice President, M. Venkaiah Naidu on Friday asked doctors to uphold ethics and treat every patient with compassion and empathy, irrespective of his or her financial background.
Addressing the 46th Annual Convocation of All India Institute of Medical Sciences, he said Government has launched 'Ayushman Bharat Yojana' to cover more than 10 crore vulnerable families by providing a coverage of Rs. 5 lakh per family per year. He added that this will be a game-changer in terms of accessing healthcare services in India.
The Vice President said that medical education has undergone a paradigm shift from class room based didactic teaching to self directed small group learning using principles of adult learning. The traditional methods of learning via imparting knowledge have evolved into competency-based learning to ensure that trainees acquire all essential skills before licensure, he added.
Mr. Naidu said that the curriculum in medical education needs to be constantly upgraded in tune with the latest advancements. I am sure that the curriculum developed at AIIMS can be adopted by other AIIMS like institutions and other medical colleges, he added.
Saying multidisciplinary teams are the need of the hour, the Vice President said that forging research coalitions with different department of AIIMS, as well as reaching out to other centres of excellence and researchers in the country should be given a priority.
The Vice President said that we have to make quality healthcare accessible and affordable. He further said that there is also a significant urban-rural divide and referred a report of PWC points out "India has only 1.1 beds per 1000 population in India compared to the world average of 2.7. 70% of India's healthcare infrastructure is in the top 20 cities." We have to bridge this urban-rural divide in providing state-of-the-art healthcare services, he added.
Mr. Naidu said that we have a paradoxical situation when it comes to health sector. On the one hand, India is making rapid strides in medical tourism with people from other countries coming to our country for a range of treatments from liver transplant to knee replacement, he said. However, the same treatment is out of reach for many Indians and we need to overcome this paradoxical situation by ensuring that treatment is affordable for all Indians, he further said. An important step in this direction will be to promote manufacturing of state-of-the-art devices and equipment in the country, particularly under the 'Make in India' programme and such a move will not only save precious foreign exchange for us but also bring down the costs of the devices, he added.
The Vice President said that only the doctors can provide the healing touch to the ailing humanity and they only can make the difference between life and death. Only you can add life to people's years, he said. People admire actors but they adore doctors and doctors must treat their profession as a mission, he added.
He complimented the Director, the faculty members and all other staff members for making AIIMS an institution of excellence. I hope our Bharat will become Ayushman and every citizen will find the healthcare facilities more responsive, affordable ethically sound and qualitatively among the best in the world, he added.
The Vice President presented the Lifetime Achievement Awards to Dr. A. K. Saraya, Dr. Samira Nundy, Dr. Kamal Buckshee and Dr. Gomathy Gopinath (in absence) on this occasion. He also presented Gold Medals and Certificates to 31 Medical Students who have achieved highest merit.
The Union Minister for Health & Family Welfare and the President of AIIMS, Shri J.P. Nadda, the Director of AIIMS, Prof. Randeep Guleria and other dignitaries were present on the occasion.
Health Minister J P Nadda said that ensuring the highest standards of medical education is a top priority for the government.