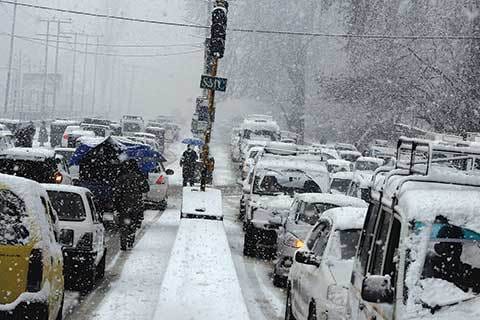 WEB DESK
The death toll due to severe weather across Europe has risen to 60, with at least 23 casualties in Poland alone amid sub-zero temperatures.
According to reports, the freezing conditions have claimed seven lives in Slovakia, six in the Czech Republic and five each in Lithuania and France over the past week. Other deaths were recorded in Spain, Italy, Serbia, Britain, the Netherlands and Norway.
In Ireland, a power outage cut electricity to some 24,000 buildings and forced schools throughout the country to close. Dublin airport also canceled all outbound flights.
The country's meteorological service, Met Éireann, kept a red weather alert in place for Friday, warning of continuing snowfall across the southern provinces of Munster and Leinster.
Britain calls in the army to help cope with heavy snow
Britain called in the army on Friday after some of the most severe winter storms in recent memory battered the British Isles.
Storm Emma forced many roads and airports to close as it unleashed fresh snow and subzero temperatures onto southern Britain and Ireland.
Many areas were already reeling from fierce Siberian winds known as "The Beast from the East" that had hit both countries earlier in the week.
The British army transported first responders and also helped rescue drivers stranded in the snow. "The Armed Forces are assisting emergency services in ensuring essential NHS [Britain's national health service] staff are able to get to work and carry out their work in local communities," the Ministry of Defence said.