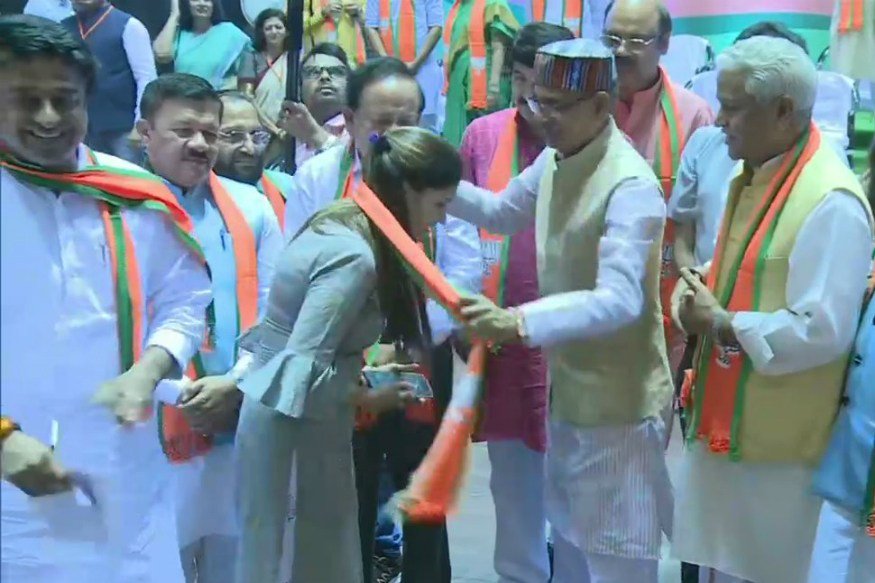 AMN / NEW DELHI
Haryanvi singer and dancer Sapna Choudhary has joined the BJP. She was inducted into the party at a membership drive event in New Delhi today. She joined the party in the presence senior party leaders Shivraj Singh Chouhan, Ram Lal and Dr Harsh Vardhan.
Speaking on the occasion, Mr Chouhan said, BJP will be further strengthened at the booth level, through the membership drive, ensuring victory in the upcoming assembly elections.
Earlier before Lok Sabha Polls, there were reports that Sapna Chaudhary was joining the Congress after a picture of the singer with Priyanka Gandhi Vadra was tweeted by Raj Babbar. Sapna Chaudhary, however, refuted the claims of her joining the Congress and said the picture was old. "I have not joined the Congress party. My pictures with Priyanka Gandhi are old, as I have met her many times in the past. These pictures are old. The biggest issue is that I have not joined any party," she had told reporters. Now the latest developments have put all speculations to rest.
Sapna Chaudhary is a stage performer and became a sensation following her appearance in Big Boss 11. Her popularity can be gauged from the fact that Choudhary beat Deepika Padukone and Radhika Apte in the list of 'most searched women online in 2018'. With 1.7 million followers, Choudhary's glamorous makeover was one of the major Instagram trends in 2018.
Choudhary has a huge fan following and most of her shows are jam packed. In February, her song 'Chetak' crossed 80 million views on YouTube. Some of her other superhit songs include 'Teri Aakhya Ka Yo Kajal', 'Mera Chand,' 'Laad Piya Ke' etc. The record-breaking song -'Teri Aakhya Ka Yo Kajal'- had clocked over 360 million views on YouTube.