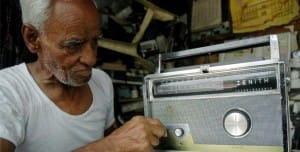 AMN / NEW DELHI
Private FM channels will broadcast All India Radio News from today (Jan 8) after Information and Broadcasting Minister Rajyavardhan Rathore launches the sharing of news in a function at New Delhi.
In an interview to AIR News, Mr Rathore said, it is a positive and welcome step as radio is the biggest mass medium for citizens. The Minister said that the radio has been popularized again due to Prime Minister Narendra Modi's Mann Ki Baat Programme.
He said, AIR FM is covering 50 per cent of the population in the country and private FM channels are being given opportunities in different cities and towns.
Mr Rathore took on the opposition saying that from 2009 to 2014, the then UPA Government took 56 crore square centimetres of space in Newspapers for advertisements and spent a huge amount on publicity.
He said, they even displayed the photographs of UPA chairperson, who was not even a constitutional authority.