Says it was bigger scam than 2G, CWG and Coal Allocation
Our Correspondent / New Delhi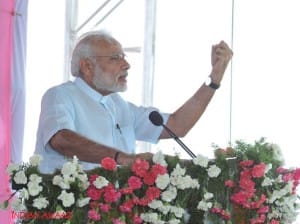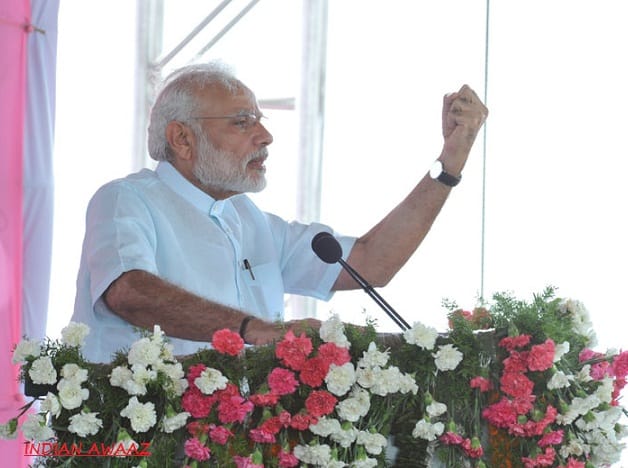 Prime Minister Narendra Modi today hit out at previous UPA government on the issue of huge Non Performing Assets-NPAs in banks, he said, the previous UPA government forced banks to give huge loans to industrialists. Mr Modi alleged it was a bigger scam than 2G, CWG and coal allocation. He said, NPA or bad loans problems are liabilities handed over by economists in the previous regime to the present dispensation.
Addressing the Annual General Meeting of FICCI in New Delhi, Mr Modi said, government is creating a system which will not only be transparent but sensitive towards the needs of the people. He said, the government is also taking steps to address the needs of the youth.
Mr Modi said, the government is continuously taking steps to strengthen the banking system. The Prime Minister said, rumours are now being spread about the Financial Regulation and Deposit Insurance (FRDI) Bill. He asserted that government is working to put more safeguards for the public deposits in banks as well as protecting the interests of account holders but rumours that are being spread are the exact opposite. He said organizations such as FICCI have a responsibility to generate awareness about such issues.
He also said his government is working towards fulfilling every need and addressing every problem of the poor. He mentioned that over 30 crore poor have got bank accounts under the Jan Dhan Yojana, Modi said, adding that a study has found that inflation had come down in rural areas where such accounts have been opened.
He said 87 important reforms in sectors including in defence, financial sector and food processing have been taken up in the last three years. He said, more than three crore women have been given free cooking gas LPG connection. He said, under the Mudra scheme, over four lakh crore rupees guarantee-less loans have been given to about 9.75 lakh youth for business, leading to three crore new entrepreneurs being created since its launch.
Mr Modi said his government is formulating policies keeping in mind the need of businesses, abolishing archaic and obsolete laws. He said, industry had been long demanding Goods and Services Tax and the BJP-led government implemented it and introduced measures like anti-profiteering to see that industry passes on the benefit of lower taxes to the people.