HEALTH DESK / NEW DELHI
Renowned Orthopaedic Surgeon and Medical Researcher Dr. (Prof.) Raju Vaishya and his Orthopaedic Surgeon son, Dr. Abhishek Vaish were conferred the 'Best paper publication awards", the most prestigious Awards of Apollo group of Hospitals, by its Chairman, Dr. Prathap C. Reddy.
The award along with a citation was given to Dr. Raju Vaishya and Dr. Abhishek Vaishya during a glorious function organized at Indraprastha Apollo Hospitals this week. The function was attended by a large number of distinguished doctors and healthcare professionals. These awards are given on behalf of Apollo Hospital Education Research Foundation (AHERF).
Dr. Raju Vaishya has once again received a maximum number of 30 awards for his research papers published in 2018, which were the maximum in the whole group of hospitals. He was also awarded the adjunct title of Professor in this function.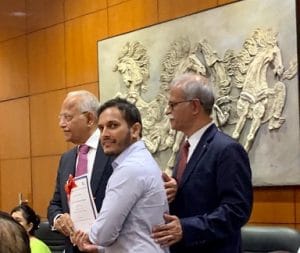 Dr. Abhishek Vaish also received the award for his paper on 3D printing in complex orthopaedic fracture cases. Dr.Abhishek Vaish is a consultant orthopaedic surgeon at Indraprastha Apollo Hospitals, New Delhi. He has completed top five master degrees in Orthopaedics (MS Orth, MCh Orth, Dip. SICOT, DNB (Ortho) and MNAMS) in only 30 years of age. He has worked as Senior Resident Orthopaedics in Central Institute of Orthopaedics, Safdarjung Hospital, New Delhi and in Kent, UK, before joining the Apollo group of hospitals. He is also credited with 70 publications in various reputed medical journals and has authored many chapters in the medical books.
Dr. Raju Vaishya is one of the most prolific and well-known researchers in the Orthopaedic community of India. He has more than 350 publications to his credit, in the various reputed International and National journals and has also authored many books and chapters. He is also the Editor-in-Chief of the reputed Journal of Clinical Orthopaedics and Trauma. Also, he is on the Editorial Board and Reviewer of several other well- known medical journals.
Dr Vaishya is also the recipient of several other distinguished awards like Dr. B.C. Roy Oration Award and Gold medal, Siemens-GAPIO innovation award in Medicine, Pride of Asia International Award, Vijaya Raje Scindia Excellence award, Professor's gold medal for the best research at Oswestry, University of Birmingham, UK and the Best Researcher IRJULA title awards. The world famous Royal College of Surgeons of England had also conferred on him FRCS.
Sponsored