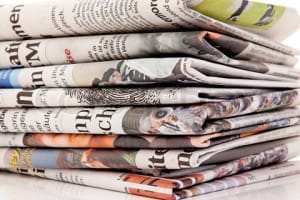 Intense debate on rafale deal in the parliament and the Supreme court delaying verdict on the Ayodhya case are the stories that get a prominent mention today.
"Rafale will bring Modi back as PM: says, Nirmala" writes the Hindustan Times adding, in the subtext, Rahul Gandhi's response as, "Congress will investigate the deal when it comes to power" The Tribune quotes Nirmala Sitharaman as saying, "Bofors sank you, Rafale will bring PM Modi back".
"'Appropriate Bench' will hear Ayodhya appeals" says The Hindu further quoting the Chief Justice of India as saying, "It will pass further orders on January 10th".
"Lokpal search panel formed, govt. tells Supereme Court" writes The Hindu about govt's response to the Supreme court over lokpal issue.
The Indian Express carries a picture of the award-winning journalists with the headline, "The Stronger journalism becomes, the brighter a democracy shines: says, Rajnath Singh" adding '29 journalists honoured for work in print, broadcast and digital'.
On the Sabrimala fiasco The India Express writes, "Now, a woman from Sri Lanka makes it to Sabrimala Temple"
The Hindustan Times in another headline writes, "Data protection bill could get Cabinet nod next week" informing about the bill's likely consideration next week.
Quoting PM's response to National Register of Citizen, NRC question The DNA writes, "No Indian will be left out of NRC: say, Modi"