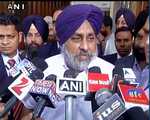 Punjab Government has formed a Special Investigation Team (SIT) to investigate the escape of six under-trials from the Nabha Maximum Security Jail this morning.
At the same time, a massive manhunt has been launched to nab the escaped prisoners. State Government has also ordered the constitution of an Enquiry Committee headed by Additional Chief Secretary (Home) Mr. Jagpal Singh Sandhu to investigate the security lapses that led to this jail break.
Punjab Chief Minister, Mr. Parkash Singh Badal held a high level meeting of Civil and Police Administration including intelligence officials to review the situation. Punjab Deputy Chief Minister, Mr. Sukhbir Singh Badal,who is also Home Minister of state today spoke to the National Security Advisor Mr. Ajit Doval and apprised him of the details of the incident of Nabha jail break and updated him on the steps being taken to apprehend the culprits.
Mr. Sukhbir Badal is also moved to Nabha to visit the affected jail for review of the situation there. Meanwhile, the Punjab government considered a series of administrative steps in the wake of the Nabha jail break incident. A red alert has been issued throughout the state including at the international border with Pakistan and security at all jails has been furthered enhanced.
The government has dismissed both the Superintendent and Deputy Superintendent of High Security Nabha Jail with immediate effect. The state government has announced a reward of 25 lakhs rupees to any person providing information leading to the arrest of these six escaped under-trial prisoners.