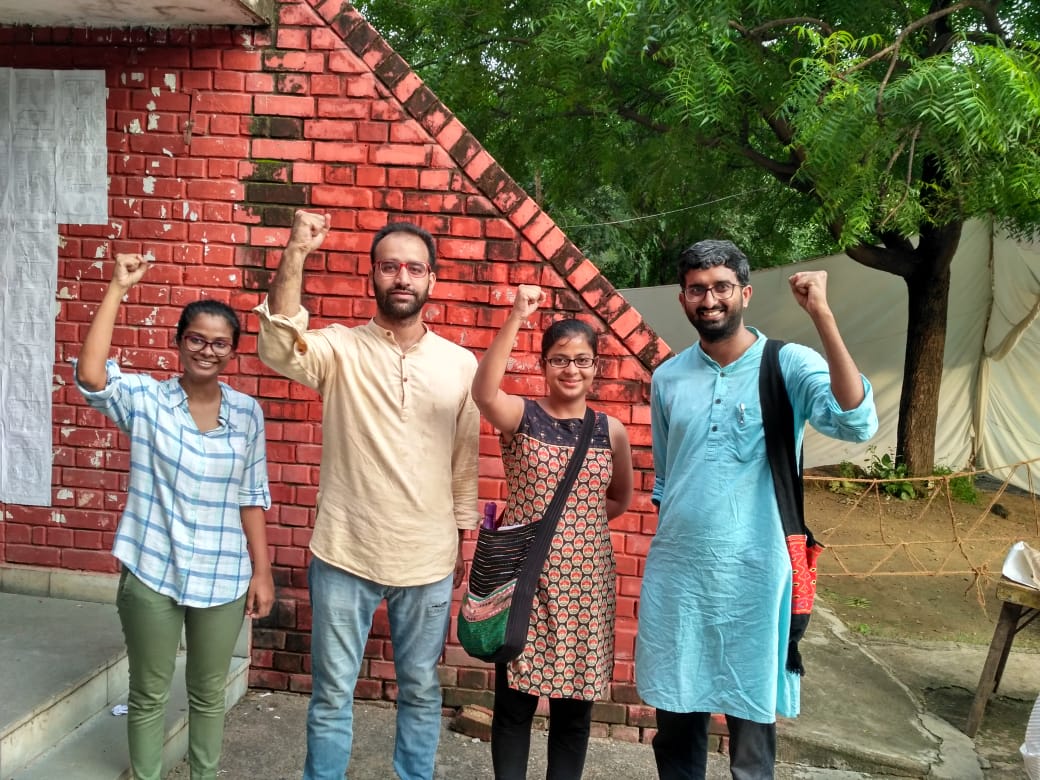 Our Correspondent / New Delhi
The united front of Left student groups won all four central panel posts in Jawaharlal Nehru University (JNU) Students' Union elections, defeating ABVP.
N Sai Balaji was elected the President and Sarika Choudhary the Vice President. Aejaz Ahmed won the post of General Secretary while Amutha has been elected as Joint Secretary.
The Left-backed All India Students' Association, Students' Federation of India, Democratic Students' Federation and All India Students' Federation had contested the polls jointly.
The counting of votes was suspended after ABVP leaders allegedly broke into counting centres and roughed up Election Committee members.The ABVP, however, rejected the charges and claimed that the counting was started without informing them. The election committee did not name the persons responsible for the violence. The voter turnout in the election was 67.8 per cent, believed to be the highest in six years. Over 5,000 students had cast their votes.
To be on the Left today is to be on the Right side of History.

Red Salute to Comrades. The People United Shall Always Be Victorious. #WeAreJNU #JNUSUElection2018 pic.twitter.com/9A06NScy7H

— Kanhaiya Kumar (@KanhaiyaKumar__) September 16, 2018
In the last round of counting for the JNUSU Elections, here are the latest figures:
Vote count – 4387
Total vote – 600
President Post
N Sai Balaji (Left Unity) – 1871
Lalit Pandey (ABVP) – 937
Thallapalli Praveen (BAPSA) – 583
Jayant Kumar (RJD) – 459
Vikas Yadav (NSUI) – 360
Vice President Post
Sarika (Left Unity)- 2309
Geeta Sri (ABVP)- 871
Purna Chandra (BAPSA) – 554
liji (NSUI)- 418
General Secretary Post
Aejaj (Left Unity) – 2113
Ganesh (ABVP) – 863
Vishambhar Nath(BAPSA) – 613
Md. Mufizul (NSUI) – 256
Joint Secretary Post
Amutha (Left Unity) – 1552
Venkat Chaubey (ABVP)- 941
Nureng Reena (NSUI)- 602
Kanaklata Yadav (BAPSA) -500