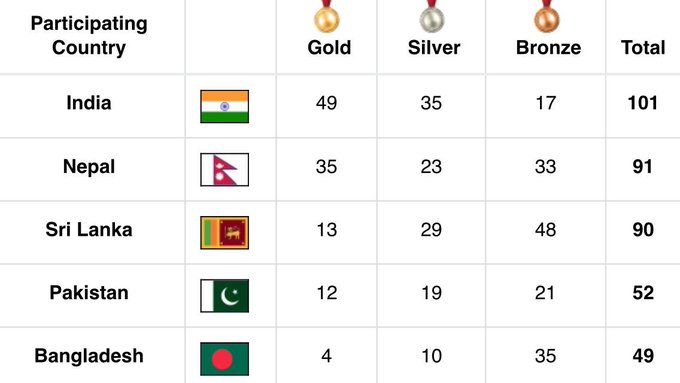 Indian athletes excelled at 13th South Asian Games in Nepal and grabbed 48 medals comprising 24 golds, 18 silvers and six bronzes today.
Indian women displayed their power and clinched 16 gold, 6 silver and 2 bronze for the country. India dominated in Wushu, Weightlifting, Swimming, Shooting and Taekwondo.
In Wushu, India clinched five golds and one bronze.
On the opening day of swimming, India won four golds, six silvers and one bronze. Similarly, on day one of Weightlifting, India clinched four gold medals.
Indian shooters won four golds, two silvers and one bronze. In women's 50-metre Rifle 3-Positions event, Indian shooters brought triple delight by winning gold, silver and bronze.
On the final day of Taekwondo, India clinched three golds, two silvers and one bronze. In athletics, India begged one gold, four silvers and two bronzes.
On the fifth day of games, India further consolidated its top position in the medal tally with a total 118 medals comprising 58 golds, 41 silvers and 19 bronzes.