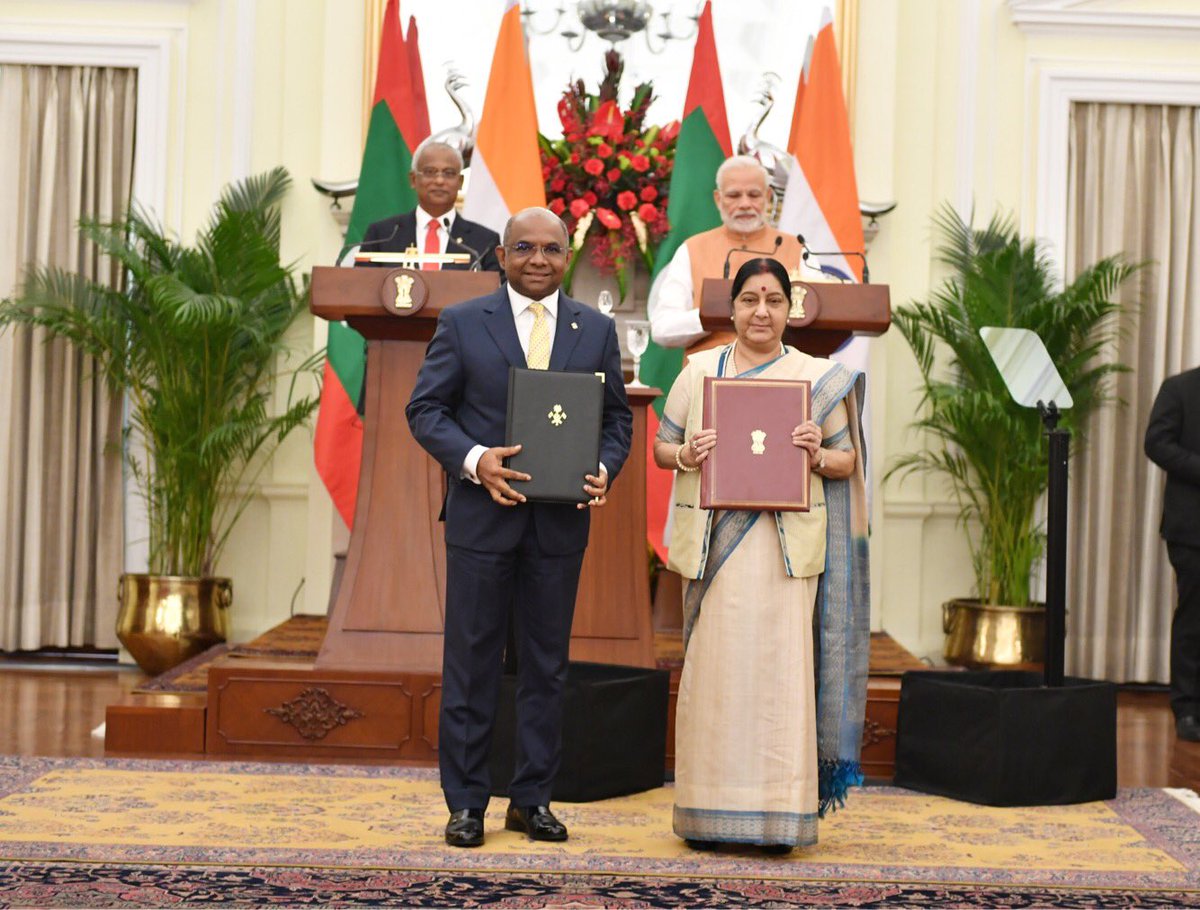 Agencies / New Delhi
India has decided to extend 1.4 billion dollars financial assistance to Maldives as budget support, currency swap and line of credit for the social and economic development of Maldives.
In a press statement after delegation-level talks with Maldives President Ibrahim Mohamed Solih, Prime Minister Narendra Modi said, India and Maldives need to increase bilateral cooperation to maintain peace and stability in the Indian ocean.
He also said, the security interests of the two countries were intertwined and both sides will work together to further strengthen cooperation in the Indian Ocean region.
The Prime Minister said, New Delhi wants greater ties with Male. He said, there are increasing opportunities for Indian companies in the island nation. He said, the delegation level talks were constructive and they agreed to further strengthen bilateral ties.
He welcomed new visa agreement between India and Maldives. The two countries inked four pacts, including one on visa facilitation.
Mr Modi said, both the sides have also decided to give an additional one thousand seats for the training and capacity building of the Maldives citizens in the next five years.
On his part, the Maldives President said, the two sides agreed to strengthen maritime security cooperation in the Indian Ocean region through coordinated patrol and aerial surveillance.
In the morning, Mr. Solih was accorded ceremonial reception at the forecourt of the Rashtrapati Bhawan in the presence of President Ram Nath Kovind and Prime Minister Narendra Modi. External Affairs Minister Sushma Swaraj also called on Mr. Solih and discussed bilateral and regional issues of mutual interests.
The Maldivian President arrived in New Delhi yesterday on a three-day visit to India. His visit comes nearly a month after Mr Modi attended Mr Solih's swearing-in ceremony in Male.
Special relationship

PM @narendramodi warmly received President @ibusolih ahead of delegation level talks. During his visit to Maldives for the President's inauguration in November, PM had extended an invitation to President Solih to make a State Visit to India. pic.twitter.com/TzZ9lSatfU

— Raveesh Kumar (@MEAIndia) December 17, 2018