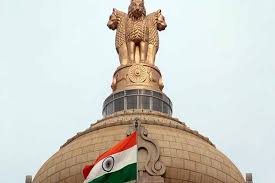 Staff Reporter / New Delhi
Union Cabinet today gave its approval to the Citizenship (Amendment) Bill today. Briefing media here today after the Cabinet meeting, Union Minister for Information and Broadcasting Prakash Javadekar said, the bill takes care of India's interest and it will be introduced in Parliament as soon as possible.
Cabinet also gave its nod to Personal Data Protection Bill, 2019 which will be introduced in the current session of Parliament. The Cabinet also approved the withdrawal of Jammu And Kashmir Reservation (Second Amendment) Bill, 2019.
The Union Cabinet approved the launch of Bharat Bond Exchange Traded Fund to provide additional money for CPSUs, CPSEs and other Government organizations. The Bharat Bond Exchange Traded Fund, ETF would be the first corporate bond ETF in the country. Briefing media, Finance Minister Nirmala Sitharaman said government is trying to deepen the bond market in India.