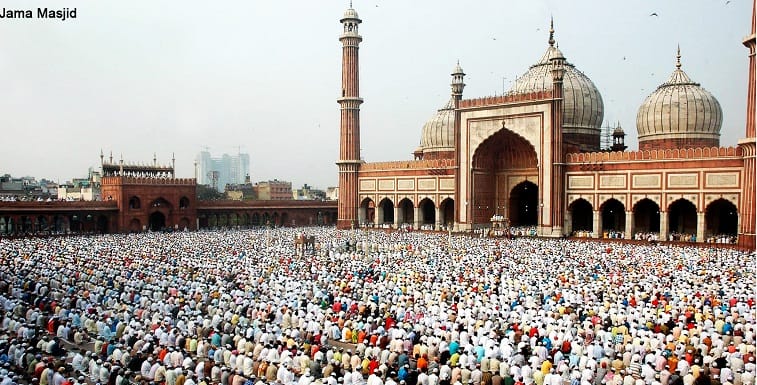 AMN / WEB DESK
Eid-ul-Azha, the festival of sacrifice is being celebrated across India with religious fervour and enthusiasm today. Muslims thronged Mosques and Eidgahs to offer special Eid prayers. Later they exchanged Eid greetings.
In Delhi, main congregations were held at Jama Masjid, Fatehpuri mosque and Shahi Eidgah. Speaking on the occasion, the Imams, who led the prayers appealed to people to maintain peace and harmony and celebrate the festival in the spirit of brotherhood keeping in mind the sentiments of fellow countrymen.
Eid-ul-Azha is celebrated to commemorate the willingness of Prophet Ibrahim to sacrifice his only son in the obedience of God's command. Reports of Eid congregations have also come in from other parts of the country.
In Uttar Pradesh, Eid Al Azha, the festival of sacrifice and feasting is being celebrated with traditional gaiety and fervor all over the state today. To mark the day, people offered special Namaz of Iduzzuha in the morning at all the main mosques including Eidgah Aishbagh, Teeley wali Masjid and Asifi Masjid in capital city Lucknow.
Afterwards, they performed the Qurbani or sacrifice and shared the offerings with relatives, neighbours and poor. On this occasion, elaborate security arrangements have been made across the state with special attention on the sensitive places. News of peaceful celebration of festival of Iduzzuha is pouring in from across the state including Lucknow , Kanpur, Bareilly, Gorakhpur, Varanasi Agra and Prayagraj.
Director General of Police OP Singh is himself monitoring every corner. The ritual of Qurbani has already begun after Namaj and will continue for next three days. The offering is divided into three parts, one of which is given to poor and destitutes. Hindu friends are reaching out to the houses of their Muslim friends to offer them good wishes and to enjoy the mouth watering dishes which have been prepared specially for the occasion.
The festival of Eid-ul-Adha, popularly known as Bakrid, is being celebrated in Madhya Pradesh with traditional enthusiasm and gaiety today. The state government has made elaborate security arrangements this time, due to Eid and the last Monday of the holy month of 'Shravan' falling on the same day. People thronged different mosques and Eidgahs and greeted each other after offering namaz here.
In Telangana, Id-ul-Adha, festival of Sacrifice as known as Bakrid, is being celebrated with religious fervour and gaiety across the state. Muslims offered Eid prayers at eidgahs and masjids and greeted each other. Lakhs of devout offered special prayers, at the historic Eidgahs and Masjids in Hyderabad and other towns across the state. Amidst elaborate arrangements by police and civic bodies for smooth conduct of Eid prayers, major congregations were witnessed at Eidgahs like the one at Mir Alam in Hyderabad.
Id-ul-Adha also known as Bakrid festivities are underway smoothly. Donned in traditional attire, Lakhs of worshippers thronged Eidgahs like Mir Alam and Madannapet in the Old City of Hyderabad and also in Masab Tank, Military Grounds near Mehdipatnam, Golkonda, Secunderabad, Santosh Nagar and Malakpet among others. The streets around the historic Macca Masjid were teeming with people greeting each other and wishing 'Eid Mubarak'. Many believers began their day with morning prayers, followed by greeting relatives, neighbours and friends. Some worshippers are sharing meat after sacrificing animals like sheep and goat to echo Ibrahim's sacrifice and also distributing a portion of meat to the poor and needy. In a bid to ensure that the festival passed off in a clean manner, officials of the Greater Hyderabad Municipal Corporation (GHMC) distributed over 8 lakh polythene covers, so that people could dispose the animal waste in a proper manner.
In Jammu and Kashmir Eid-al-Adha prayers at various mosques in the Kashmir Valley concluded without any violence today morning. According to police sources large gatherings, however, were not allowed in any part of the Valley. The authorities had yesterday made it amply clear that people will be allowed to visit neighbourhood mosques to offer Eid prayers. In a tweet Jammu and Kashmir Police said that Eid prayers concluded peacefully in various parts of the valley adding no untoward incident was reported so far . According to sources, authorities distributed sweets at various mosques. In Jammu Division people offered Eid prayers in various mosques and Eidgahs peacefully.
According to Spokesperson of Ministry of Home Affairs Eid prayers were offered peacefully in all local mosques of Anantnag, Baramulla, Budgam, Bandipore, without any untoward incident. Jamia masjid old town Baramulla witnessed approx 10,000 people offering prayers. On the eve of Eid al-Adha, restrictions were eased in the Valley to allow people to shop for the festival. The district administrations are constantly reviewing the situation in Jammu and Kashmir and doing their best to minimise the inconvenience caused to people during the restrictions imposed on movement. The government has also made arrangements for availability of adequate food and other essential items across the Kashmir Valley and steps are being taken to even deliver certain goods at people's doorsteps. Official sources said that the government's top priority is to maintain peace and prevent any casualty and mischief in Jammu and Kashmir.
In Jammu Division people offered Eid prayers in various mosques and Eidgahs peacefully.
Leh celebrated the Festival of the Sacrifice, Eid Ul Zuha (Bakrid) with gaiety. The Holy day is celebrated in honour of the willingness of Ibrahim to sacrifice his son as an act of obedience to God's command. people gathered at Eid Gha in Leh this morning to offer Eid E Namaz. Imam E Zamat Moulvi Umer Naqvi had performed the Namaz.
Eid E Namaz prayers also included for World peace and Harmony, brotherhood and compassion. However, this year a special prayers are offered as long dream of Ladakh for Union Territory status is fulfilled. The local administration made special arrangements for smooth Eid prayers in Leh. People are seen greeting each other in the Leh Main bazaar. Leh police have made precautionary security arrangements.
Eid prayers were offered at all over Kargil in which thousands of people participated and later offered Eid Greetings to each other and prayed for the peace, tranquility and harmony in the country.
People were seen busy in purchasing live stock to celebrate Eid-uz-Zuha in Kargil, who are visiting live stock seller's stalls at various places in the Market. The Hustle and bustle in the Kargil Bazaar Returned and people were seen happy and doing shoppings.
Reports of Eid celebration also reached from Drass, Shakar Chiktan, Shargole, TSG, Sankoo, Tai Suru and Zanskar. District Administration has made arrangements for smooth celebration Eid in Kargil.
Lakhs of people offered 'namaz' at Eidgah in Bhopal. Imambara and other major mosques of the various district in Madhya Pradesh. Many mosques of State also enlightened the people about the importance of cleanliness.
Governor Lalji Tandon, Chief Minister Kamalnath have greeted the people on the occasion.