AMN / NEW DELHI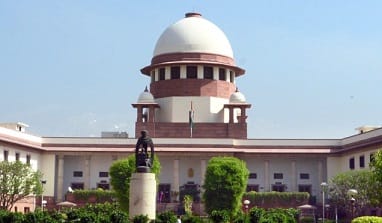 The Supreme Court today sought responses from Rajasthan, Haryana and Uttar Pradesh for not following its order to take stern steps to stop violence in the name of cow vigilantism.
A bench of Chief Justice Dipak Misra and Justices A M Khanwilkar and D Y Chandrachud issued notice and sought the replies from the three states by April 3.
The court was hearing a plea seeking contempt action against the governments of the three states.
The petition said these states have not complied with the top court order of September 6 last year, asking all states to take stern measures to stop violence in the name of cow protection.
Acting on a contempt petition filed by Mahatma Gandhi's great grandson Tushar Gandhi, the bench headed by Chief Justice of India Dipak Misra asked the three states to file their replies by April 3.
Emphasising that it was the duty of states to maintain law and order, the top court had on September 6, 2017 had asked them to take action against cow vigilante groups which had been indulging in violence against cattle traders.
"This must stop. The law is in place…Planned action is needed so that vigilantism does not grow in this sphere, not in any sphere for that matter," the court had said.
The court had also directed the states to appoint nodal officers in each district and highway patrol to check cow vigilante groups and inform it about the progress made in stopping the violence.
On Monday, senior Advocate Indira Jaising told the court on behalf of Tushar Gandhi that violence by cow vigilante groups was still on in certain parts of the three states despite the September 6 order.
The bench said it will hear the contempt plea along with the main petition filed by Gandhi. Another petition filed by Congress activist Tehseen Poonawalla is also pending before the top court.
The top court's September 2017 order had come after several deadly incidents were reported from Haryana, Rajasthan and Uttar Pradesh.
In July 2017, 15-year-old Junaid from Haryana was stabbed to death on a train by a mob which suspected he was carrying beef.
Pehlu Khan, a farmer from Haryana, was also murdered by cow protectors in Rajasthan while transporting cows legally purchased from a market in Jaipur in April 2017.
Mohammad Akhlaq of Bisada in Greater Noida was lynched in 2015 by a cow vigilante group for allegedly keeping beef in his house.