Vani, Tvesa to represent home challenge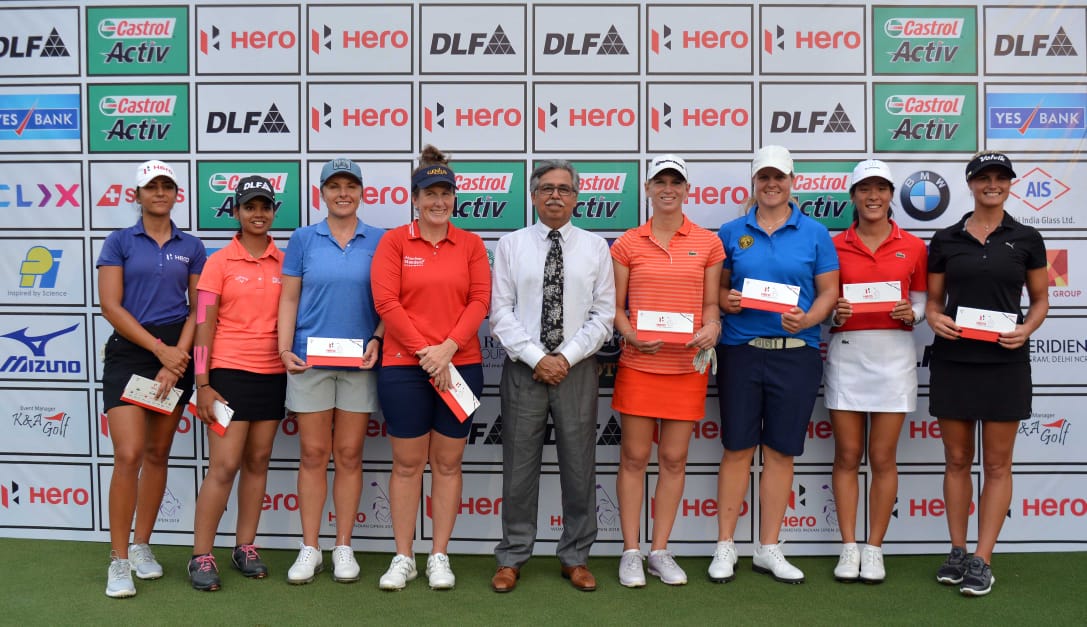 Harpal Singh Bedi / Gurugram
Vani Kapoor and Tvesa Malik will spearhead Indian challenge as defending champion, French golfer Camille Chevalier will lead the international star cast, in the US $ 500,000 Hero Women's Indian Open (HWIO) to be held at DLF club here from October 18 to 21.
Vani Kapoor, was tied-sixth and was country's top player at the event last year, while Tvesa Malik, who leads the local Order of Merit on the Hero Women's Professional Golf Tour will make her debut in HWIO as a professional.
2011 champion, Sweden's Caroline Hedwall, Australian Sarah Kemp and the leading Ladies European Tour rookie this year, Swedish Julia Engstrom form the strong field that has assembled for the HWIO
The leading players got around to talking about their plans, before going onto the Hero Skills Challenge, which has become the regular warm-up and forerunner to the main event.
Camille Chevalier, 25, who has made four cuts in 10 starts in 2018 looks at HWIO to turn her form around. She said, "I have been practicing at the Le National in France before coming here. That is not my home course, but is tough and great preparation for the HWIO. The rough is quite big there and as challenging as at this course. It was great winning last year and was a big moment for me. I am very excited to be back to defend the title."
Vani Kapoor, tied-6th last year, has had an average season this year, but is hopeful of a strong finish to get her 2019 card.
"I have been preparing hard. I was hit by tendinitis few days back but I am hoping to get over that. This is my home course and I know it well, but as they say in golf, every shot is a new one and you never play the same shot again. Last one year has been one of great learning." The Indian said
Hedwall recalled that when she won (in 2011), the course was a different one (Arnold Palmer course). "I was here two years ago and it is amazing the course is looking and is challenging, too.
Sarah Kemp, 32, from Australia, still winless on LET, has three Top-5 finishes this year including Lalla Meryem Cup (2nd) and Lacoste Ladies Open de France (3rd).
The countdown to the 2018 Hero Women's Indian Open @WomenIndianOpen commenced today with the European Team emerging victorious against the Rest of the World Team in the exciting Hero Skills Challenge. #HWIO18 pic.twitter.com/XwZ385FGMy

— Hero MotoCorp (@HeroMotoCorp) October 16, 2018
It has been a solid season. So far so good and I am full of confidence. The course is looking great and I will always love coming to India, because I like it so much."
The Swedish youngster, Julia Engstrom, has arrived without her golf bag. "I am still waiting for my bags. I have been told they are arriving tomorrow. So far I have practiced with borrowed clubs. .I turned pro this year and the season has been good and the experience on LET has been great."The 18-year-old said".
Tvesa Malik, the 22-year-old leader has been having a great year with multiple wins and is looking forward to playing her first HWIO as a pro.
"It has been a great season and I have been improving a lot and I have been really looking forward to this event for long. I have played here often and know the course well and it is very challenging and is in great shape. As for my plans, I plan to go to the LET Q-School this year and have picked Vani's brains on this a lot." Malik opined
The traditional trophy and a whopping cheque of US $ 75,000 awaits the winner as the Tournament will be telecast live in over 100 countries for the first time..