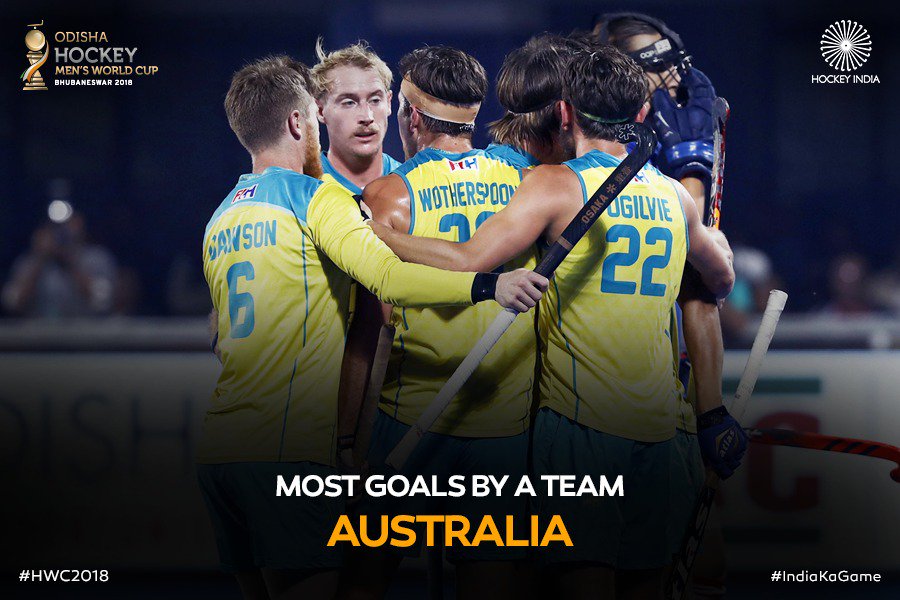 Harpal Singh Bedi / Bhubaneswar
A rampaging Australia pumped out all their pent up frustration on helpless England handing them 8-1 humiliation to clinch the bronze medal in the 14th Hockey World Cup At Kalinga Stadium in Bhubaneswar on Sunday
Australia ,who failed in their chase to create history as they lost to the Netherlands in the semi finals, vent their fury on England whom they blew to the smithereens to claim their fifth bronze in the world cup.
For the Australia who led 3-0 at half time the goal scorers were Blake Govers (8th), Tom Craig (9th,19th,34th) Trent Mitton (32nd) Tim Brand (34th) , Jeremy Hayward (57th, 60th) While for England Barry Middleton (45th) reduced the margin.
In the pool stage of the tournament Australia had beaten England 3-0.With this the two teams have faced each other 29 times, with the team from Down Under winning 22 times and England only four times.
It was second successive nightmarish encounter for England, who lost to Belgium 0-6, in the semi-finals on Saturday.
Australia took some tome to settle down and once they got into their grove and launched a frontal assault sending the rivals scurrying for cover.
Even the 8-1 score line is not a real indicator of the dominance the Aussies enjoyed over their rivals.The former champions should have won by double digit margin but for the missed chances and poor marksmenship.
Australia opened their attack that fetched them the first penalty corner in the sixth minute but Govers' flick was deflected well over the post. However two minutes later the Aussies surged ahead Govers scoring the goal, his seventh of the tournament, with a revise hit after receiving a through ball.
A minute later the three time champions doubled their lead when Craig scored from close range after rebound from Brand's pass. (2-0) England retaliated but Australia keeper Tyler Lovell made a good frustrate Liam Ansell from close quarters.
Australia went up 3-0 four minutes into the second quarter through Tom Craig who was set up Jake Harvie and Govers.
Just seconds into the third quarter, England secured a penalty corner but Luke Taylor's attempt was easily saved by Charter.
It was 4-0 in the second minute of the second half when Trent Mitton scored off a rebound after Hayward's try from a penalty corner was saved by Gibson.
Even before England could settle down from the setback, Australia pumped in two more goals within a minute to reduce the contest to a one-sided affair. Tim Brand scored off a fine Mitton pass for the fifth and then Craig made it 6-0 for his side alia and completed his three goal tally with another super goal
England scored a consolation goal just seconds from the end of third quarter with Middleton finishing on an empty goal from Phil Roper pass. Australia scored their seventh goal in the 57th minute when Hayward converted a penalty corner.
As if that was not enough, Australia secured back-to-back penalty corners in the final minute, the second of which was converted by Hayward to seal off a convincing win
"We played the game, they way we wanted and won" Coach Colin Batch said "It is good have podium finish at this level of competition."
England finished last two matches conceding 14 goals while scoring one. This was England's third straight lost in the Bronze medal contest having earlier finished fourth in 2010 at Delhi and in 2014 at the Hague