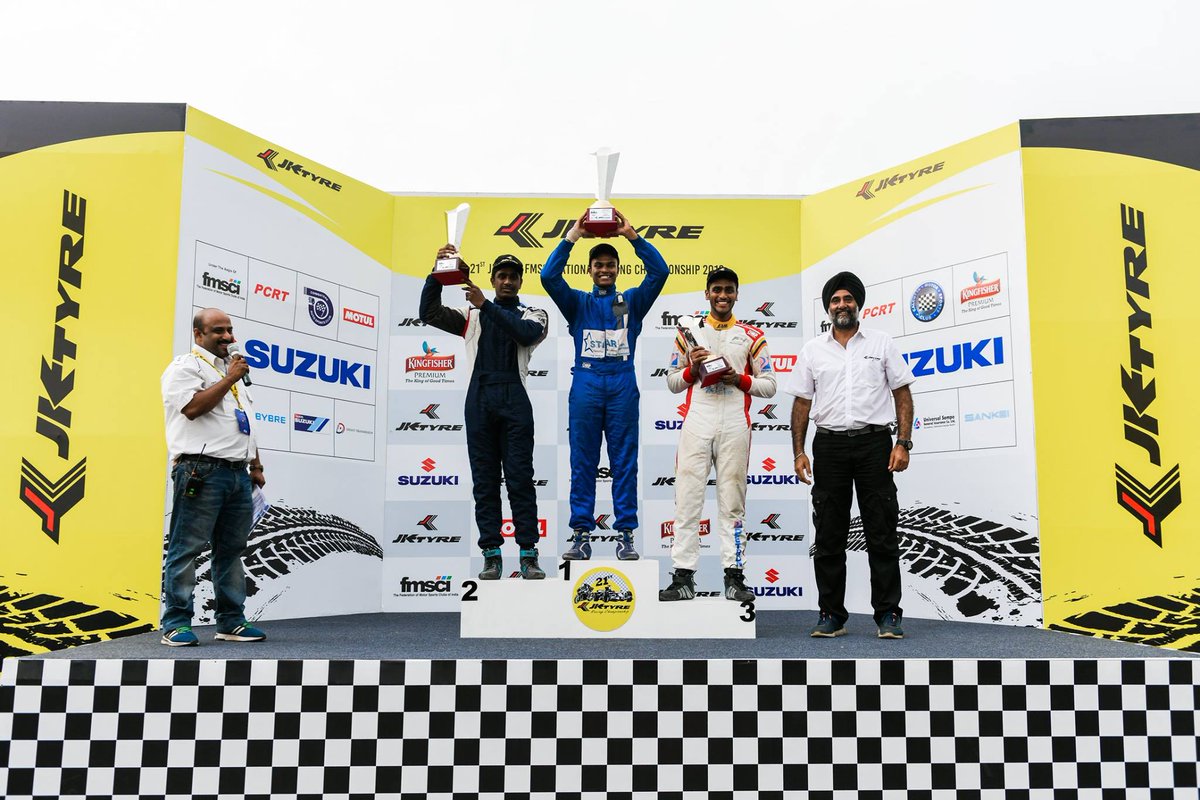 Harpal Singh Bedi / Coimbatore
Amid nerve wracking tension, Ashwin Datta held on to his slender lead on a day replete with ups, downs and upsets and moved closer to his maiden Euro JK title as Round 3 of the 21st JK Tyre FMSCI National Racing Championship came to an end at Kari Motor Speedway here on Sunday.
Chennai based Ashwin (51), who was just two points ahead of Mumbai's Nayan Chatterjee (49) as the action began on Saturday, made the most of Nayan's Did not finish (DNF) to widen his lead. However another Chennai' driver Karthik Tharani (42) won the next two races to come back into the equation.
The final race of the weekend, however, saw a totally new set of winners, with Nirmal Uma Shankar, Brayan Perera and Yash Aradhya claiming the podium places. Ashwin finished fourth, ahead of his key competitors to be comfortably placed on the top with 74 points, 6 ahead.
The LGB Formula 4 turned out to be edge of the seat affair as Vishnu Prasad (59) managed to keep his nose barely ahead despite not having a great weekend.
Delhi's Rohit Khanna looked cruising ahead after winning the first race on Day 1 and starting Day 2 with a another victory. However, a series of incidents led to a number of protests, that saw him being penalized by 20 seconds and slip down from No. 1 to 13.
And that impacted him adversely as in the final race, Rohit just couldn't recover his poise and ended up with a DNF.
Vishnu too had a poor race, finishing ninth and without a point. Raghul Rangasamy is now on the second place in the Championship table with 57 points.
The other Chennai star Joseph Mathew too had an eventful race, beating Malsawmdawngliana literally at the post. Joseph began cautiously, allowing his rival from Aizawl to take the lead. He overtook him at the halfway stage only to see Malsawmdawngliana streak past him in the final lap.
Just as victory seemed in Malsawmdawngliana's grasp, Joseph outwitted him, winning by a wafer-thin margin of 0.087 seconds. This is Joseph's sixth straight victory in the three rounds and he is now virtually assured of another title.
As it was not enough. The JK Tyre Novice Cup too saw a dramatic turn of events, which helped Surya Varathan claim the championship and Tijil Rao taking the second place.
Hashim EKP, who had won all three races over the weekend to move ahead, was disqualified as he had contravened the competition norms..
RESULTS
Euro JK 18:
Race Three: 1. Karthik Tharani (15:37.117); 2. Nayan Chatterjee (15:38.043); 3. Ashwin Datta (15:40.886)
Race Four: 1. Nirmal Uma Shankar (15:42.818); 2 Brayan Perera (15:46.014); 3. Yash Aradhya (15:47.130)
LGB 4:
Race 2: 1. Chittesh Mandody (Avalanche; 18:47.313); 2. Sarosh Hataria (Dark Don; 18:47.409); 3. Sohil Shah (MSport; 18:47.957)
Race 3: 1. Chittesh Mandody (20:11.953); 2. Sarosh Hataria (20:12.040); 3. Raghul Rangasamy (MSport; 18:13.676)
Gixxer Cup:
1. Joseph Mathew (14:02.704); 2. Malsawmdawngliana (14:02.791); 3. Syed Muzamil Ali (14:13.359)
JK Tyre Novice Cup:
1. Tijil Rao (Momentum; 18:40.030); 2. K Surya Varathan (MSport; 18:40.342); 3. Jamwal Digveshar (Prudent; 18:56.462)