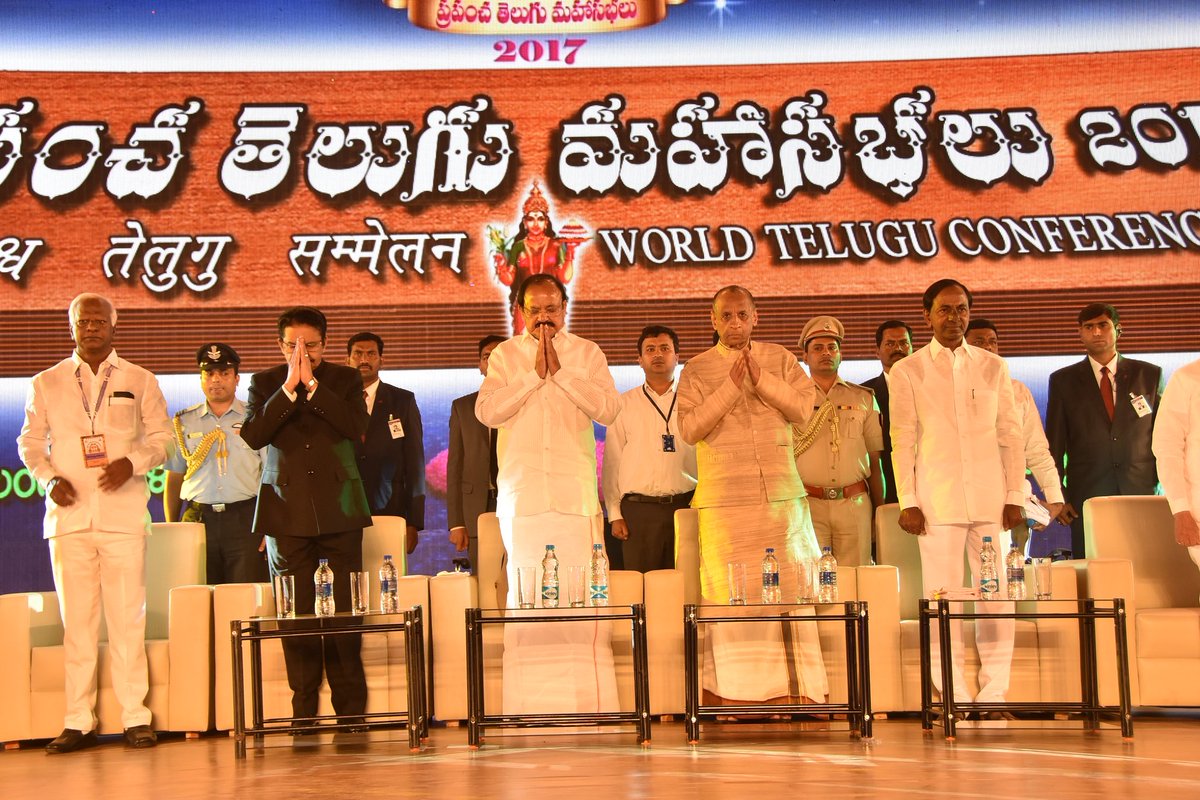 AMN / HYDERBAD
The third World Telugu Conference began in Hyderabad amidst fanfare.  Vice President of India M. Venkaiah Naidu inaugurated the conference in the presence of Governor of Telangana and AP E.S.L. Narasimhan and Maharashtra Governor Ch. Vidyasagar Rao, Chief Minister K. Chandrashekhar Rao and other dignitaries.
Addressing the conference, Venkaiah Naidu stressed on the need for protection and preservation of Telugu language and culture. He said one should not lose the touch with our base and therefore, it was the duty of all parents and teachers to teach Telugu language to their wards.
The Chief Minister did Guru Vandanam of his Guru Brahmasri Veleti Mrutunjaya Sharma and took his blessings.
Speaking on the occasion, KCR informed that about 400 delegates from 42 countries were participating in the conference. Further, he said the conference is also being attended by Telugu speaking delegates from 17 States and a Union Territory across India. Stating that Telugu was a rich and cultural language, he hoped that the deliberations, to be held during the five-day conference, would help in promotion and growth of Telugu language.
Maharashtra Governor Vidya Sagar Rao said that Telugu was a universal language. He said in India, Telugu is the most spoken language after Hindi. He lauded KCR for organising the conference and said that KCR himself writes good poetry in Telugu.
Governor Narasimhan lauded the Chief Minister for successful conduct of the conference. He said that Telugu language connects people with their soul.
For the first time even, MIM president Asaduddin Owaisi delivered his speech in Telugu language. He said Telangana State presents a perfect picture of communal harmony and peace.
The aim of the Conference is to promote Telugu and its literature besides helping the present generation learn more about Telugu language and its rich culture and heritage.
Telangana Government has put in place elaborate arrangements for the 5-day event for which about eight thousand Telugu speaking delegates from 40 countries all over the globe will be taking part.