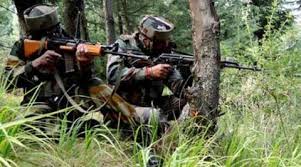 Heavy mortar shelling by Pakistani forces in Mendhar area of Poonch along the Line of Control in Jammu region Wednesday left three civilians injured.
According to Defence sources, Pakistan's Army resorted to firing in Balakote and Mankote sectors this afternoon. Army troops guarding the borderline retaliated the firing and exchange of fire lasted uptill this evening.
Meanwhile, BSF said that Pakistani border guarding force, with active connivance of its Army, have resorted to heavy mortar shelling deliberately towards Indian civilian areas along the International Border in Jammu and Kashmir.
Inspector General of BSF D K Upadhyay, the BSF commnder in Jammu frontier told media persons in Jammu that BSF never fires towards any Pakistani civilian area but fire only towards military bunkers from where Pakistani forces fire.
He further claimed that BSF troops inflicted heavy damage on 14 Pakistani bunkers across the border in Ramgarh and R.S.Pura areas.
Upadhyay clarified that if there was any civilian casualty in the Pakistani side, it was because the civilian population live very close to the military bunkers that might have resulted in "collateral" damage.
In an escalation on the tension along border, eight people, including two children and four women, were killed and 24 others were injured yesterday as Pakistani troops targeted civilian areas in Jammu region.