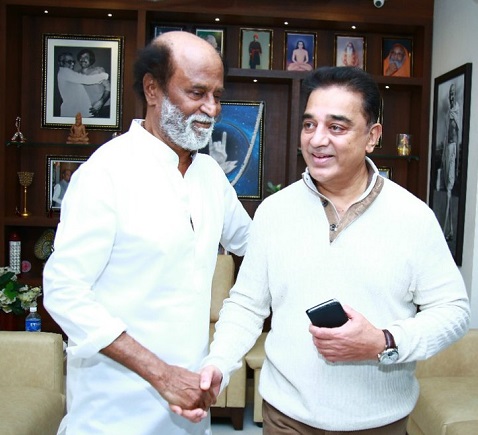 WEB DESK
Super film star -turned-politician Rajinikanth has said that "attempts are being made to saffronise" him but added that he "will not be trapped" . The actor's remarks were made after actor-turned-politician Kamal Haasan and he unveiled a bust of late Tamil film director K Balachander at the Makkal Needhi Maiam chief's production offices in Chennai.

This comment seen by many political pundits as an attempt to end speculation he his possible tie with BJP. Referring to a recent controversy triggered by Tamil Nadu BJP, which released photos of fifth-century Tamil poet Tiruvalluvar dressed in saffron, the 68-year-old actor said he, like Tiruvalluvar, "would not get trapped".

"The BJP has not made any offer to me to join them. Attempts (are being) made to paint me with BJP colour. Like Tiruvalluvar, attempts (are being) made to saffronise me. I will not get trapped, nor will Tiruvallur," he said today, responding to a question about Tamil Nadu BJP leader Pon Radhakrishnan reportedly inviting him to join the party.

The comment comes only days after the centre announced he is to be honoured with the Icon of Golden Jubilee award at the International Film Festival of India, to be held in Goa later this month.

The BJP reacted to Rajinikanth's statement by saying it had never indicated the actor had an interest in joining the party.


Two years ago the actor-politician, who said he would enter the political arena "if God willed", indicated he would launch his party ahead of the next Assembly elections – currently scheduled for 2021. His statement came at a time when the ruling AIADMK was in the midst of power struggle between Chief Minister E Palaniswami and his predecessor O Paneerselvam.