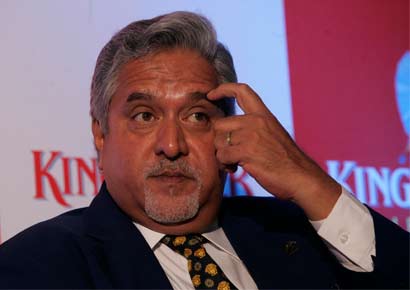 Enforcement Directorate has sought revocation of Vijay Mallya's passport in connection with money laundering probe in the 900 crore rupees IDBI bank loan fraud case.
Sources said the ED has written to External Affairs Ministry to take action against the businessman under the Passport Act and ask the Regional Passport Office to revoke his diplomatic passport. It said liquor barron has turned out to be un-cooperative with investigators probing the criminal case.
It is understood that Mallya left the country for UK on 2nd of March this year using a diplomatic passport issued to him by virtue of him being a sitting Rajya Sabha MP. The sources also said the ED has informed that despite giving three chances to Mallya for personal appearance, the Investigating Officer has only met with non cooperation from his side.
Once Mallya's Passport is revoked, ED will still be left with the option to approach a court and get issued a non-bailable warrant against him and also ask the Interpol to issue a Red Corner Notice and apprehend him. The businessman is facing legal proceedings for alleged default of loans worth over nine thousand crore rupees from various banks.