FIFA 2018: CROTIA BEAT ENGLAND 2-1 IN SEMIS
Summary
Trippier opens scoring with free kick after five minutes
Perisic levels from close range, then hits post
Mandzukic puts Croatia ahead in second half of extra time
Croatia into their first ever FIFA World Cup Final
Mandzukic strikes in second half of extra time to win it
Trippier and Perisic goals send it beyond 90 minutes
Trippier curls free-kick into top corner for stunning start
Perisic volleys in equaliser before Mandzukic grabs lead in extra time
England's first semi-final appearance since 1990
Croatia reached semis in 1998 – have never played in final
Winners play France in Sunday's final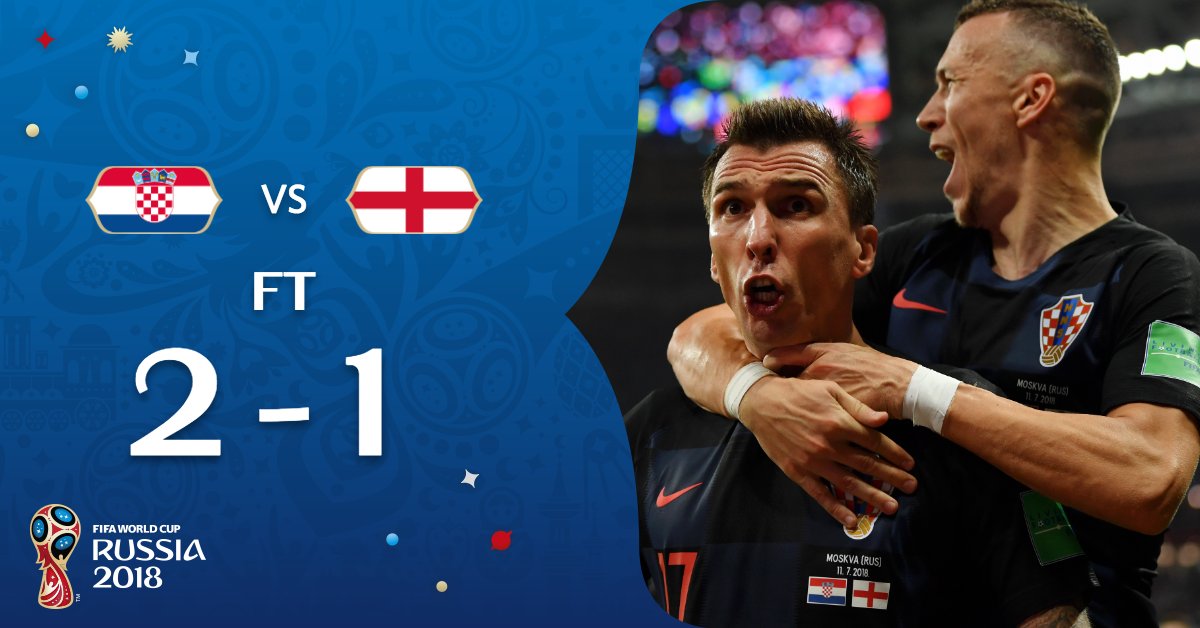 England were the better team of the first period of extra time but Croatia take the lead! Mario Mandzukic scoring great goal from insidethe box!
The first period of extra time was much more positive from England as they're reclaiming control and pressing higher. It's risky against opposition so capable of twisting play back in their favour though – as shown by Mario Mandzukic's chance – but everything's at stake.
Mike P: As disappointing as it is to lose to an average Croatia team, this is an excellent tournament for England and the important thing now is that we get behind this young team and make sure we press on. I predict a World Cup final in 2022.
Anon: great game! our boys have done us proud and beyond anything we could have ever reasonably and realistically have expected. i wish they had won but sometimes you need to be sane and be grateful for being one of the 4 best teams in the world. thank you mr southgate (and your waistcoats) you have raised a nation!