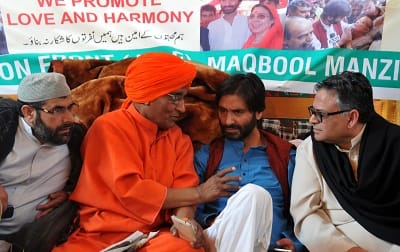 File photo
STAFF REPORTER / NEW DELHI
The Centre has banned the separatist leader Yasin Malik – led Jammu Kashmir Liberation Front (JKLF) under anti-terror law. Briefing the media after the meeting of Cabinet Committee on Security, Union Home Secretary Rajiv Gauba said that the government has declared the organisation as an unlawful association under Unlawful Activities (Prevention) Act, 1967.
He said, it has been done in accordance with the policy of zero tolerance against terrorism and the government has acted strongly against the terrorists.
Mr Gauba said, National Investigation Agency and Enforcement Directorate are taking strong action against such organisations. He said, JKLF has spearheaded the separatist ideology in the valley and it has been at the forefront of separatist activities and violence since 1988.
He said, murders of Kashmiri Pandits by JKLF in 1989 triggered their exodus from the valley and Yasin Malik was the mastermind behind the purging of Kashmiri Pandits from the Kashmir valley and is responsible for their genocide.
Mr Gauba said, activities of JKLF pose a serious threat to the security of the country and are harmful to the territorial integrity and sovereignty of India. The organization has been actively and continuously encouraging feelings of enmity and hatred against the lawfully established government as well as armed rebellion.
Mr Gauba said, a large number of secessionist leaders were being provided security by the state and the matter has been reviewed. He said, after the review, security of many such persons has been withdrawn and this process of review will continue further.