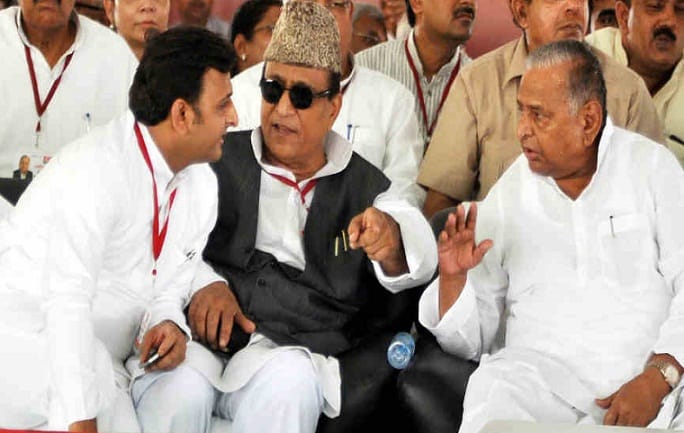 Our Correspondent
​Amid the reports of split in the Samajwadi Party in Uttar Pradesh, Muslim leader and senior minister Azam Khan today tried his best to bring father and son together amid growing differences between the two.
Azam first met Mulayam Singh at his residence and afterwards went to meet CM Akhilesh Yadav and took later to father's home in a bid to reconciliation between two..
After the meet Maulayam Singh Yadav get convinced and withdrew the expulsion of  Chief Minister Akhilesh Yadav and Rajya Sabha MP Ramgopal Yadav from the Samajwadi party.
In this way Aazam khan played an important role in saving Samajwadi Party from split.
Earlier in a show of strength, Chief Minister Akhilesh Yadav, who was expelled from Samajwadi Party by his father and SP supremo Mulayam Singh Yadav, today held a meeting at his residence where a majority of the 229 party MLAs were present. Though the exact number of those present at the meeting was not immediately known, insiders maintained that a majority of the 229 SP MLAs were present.
Besides, some SP MLCs and senior party functionaries loyal to Akhilesh attended the meeting. Shortly after the meeting Akhilesh Yadav reached to meet Mulayam Singh at his residence at Vikramaditya Marg.
The outcome of the meeting between Akhilesh and Mulayam may decide the future of ruling Samajwadi Party.