AMN/ Srinagar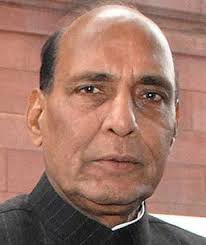 Union Home Minister Rajnath Singh today said he would like to intract with all those who believe in Kashmiriyat, Insaniyat and Jamhooriyat.
Rajnath who is on two day visit to Kashmir said he would interacting with civil society groups, political parties and other stakeholders in Kashmir during his visit to state
This is his second visit in a month to the valley, which has been witnessing unrest since July 8 when Hizbul Mujahideen terrorist Burhan Wani was killed in an encounter with security forces.
Home Minister Rajnath Singh will also review the security in the Kashmir valley after 46 days of curfew and hold talks with politicians and civil society for finding a lasting solution to the unrest there during his two-day visit to Srinagar from Wednesday.
Following Prime Minister Narendra Modi expressing deep concern and pain over the situation in Kashmir, Home Minister will review the situation and may hold talks with a cross section of people.
The Minister is also likely to emphasise the various development projects and employment schemes undertaken for the youth in the Valley. In a tweet Mr Singh said, during his stay in Kashmir, he will stay at Nehru guest house. Earlier, the Home Minister had said the centre wants an emotional relationship with the State.
Centre to provide employment opportunities to 1.4 lakh Kashmiri youths
In an effort to reach out to people of Jammu and Kashmir, the Centre is in the process of providing employment opportunities to one lakh 40 thousand youths in the State by imparting various skill development courses. Some more youths will be provided jobs in security establishment.
According to Home Ministry sources nearly one lakh youths, who are mostly under-graduates, will be given various job oriented training under a Centrally sponsored scheme called Himayat in next five years. The youths will be provided short-term training for at least three months, in a range of skills for which there is good market demand. At the end of the training, the youth are assured of a job.
Under another programme Udaan, 40 thousand youths, mostly graduate and post graduate, will be provided skill development course.
Meanwhile, the Centre is also in the process of recruiting 5 thousand youths in five newly created India Reserve battalions in Jammu and Kashmir. Another 1,300 youths will be hired from the state by different paramilitary forces in next six months. Besides, ten thousand Special Police Officers will also be recruited in next one year.