INDIAN businessman Vijay Mallya who was  arrested by the Scotland Yard in London on India's request for his extradition has been released on bail soon after his detention.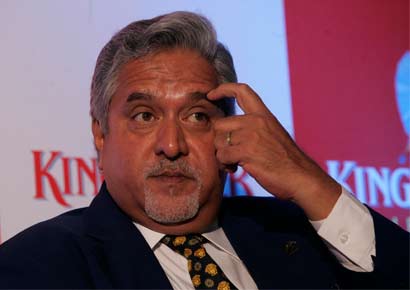 Liquor baron appeared before the Westminster's Magistrates' Court in London for his bail hearing and was released on a conditional bail.
Soon after getting the bail, the industrialist tweeted, "Usual Indian media hype. Extradition hearing in Court started today as expected."
Usual Indian media hype. Extradition hearing in Court started today as expected.
Earlier Confirming the arrest, Metropolitan Police Service in London (Scotland Yard) said, "Officers from the Metropolitan Police's Extradition Unit have this morning, Tuesday 18 April arrested a man on an extraction warrant. Vijay Mallya, 61 (18/12/1955), was arrested on behalf of the Indian authorities in relation to accusations of fraud."
"He was arrested after attending a central London police station, and will appear at Westminster Magistrates' Court later today, 18 April," it said.
Mallya has been declared a proclaimed offender and there are multiple warrants pending against him in India in several cases including loan default and money laundering.
India had in February asked the UK to extradite Mr Mallya, who is facing charges of money laundering and several arrest warrants in the country.
Last month, the UK told India that its request had been certified by the Secretary of State.
Last week, a Delhi court put out an open-ended non-bailable warrant against the 61-year-old in a case of alleged violation of foreign exchange rules.
Mallya left India a year ago amid attempts by a group of banks to recover around Rs. 9,000 in loans to his collapsed Kingfisher Airlines.
New Delhi had cancelled Mr Mallya's passport and asked the UK government to deport him to India.
Businessman and loan defaulter Vijay Mallya was today arrested by Scotland Yard on an extradition warrant in United Kindom. He will be presented before the Westminster Magistrates' Court.
Earlier in February, the Indian government had handed over a formal request for the fugitive industrialist's extradition to the UK High Commission, saying it had a legitimate case against him in on charges of financial irregularities and loan default.