HARPAL SINGH BEDI / New Delhi
It turned out to be gold less last day for hosts India as they managed four medals- 2 Silver and equal number of bronze but still emerged champions topping the leader board with 21 medals ( 7 Gold, 9 Silver and 5 Bronze) in the Track Asia Cup held at IGI Sports Complex here today.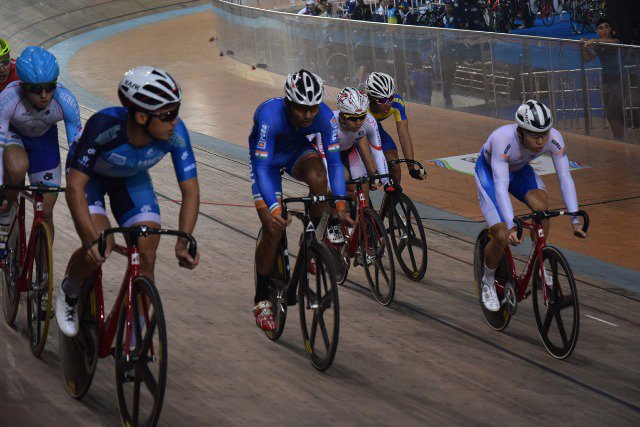 China finished second with 4 Gold & 2 Silver medals while Indonesia secured third place with 4 Gold, 1 Silver & 2 Bronze medals.
In the morning session, India Juniors Mayur Pawar & JK Ashwin secured Silver & bronze respectively in Sprint event. Mayur clocked 11.045s with a speed of 65.188km/hr while Ashwin finished in 11.098s with 64.877km/hr speed. Indonesia's Terry Yudha won Gold with 10.850s, his speed was 66.359km/hr.
The Bronze medal of Women Elite Sprint event won by P Nayana Rajesh of India with 11.940s. China's Chaorui Song & Yufang Guo distributed Gold & Silver among them.
The Silver of Men Keirin event was earned by Ranjit Singh and added a Silver to India's Tally. Malaysia's Muhammad Fadhil won Gold and his teammate Muhammad Khairil Nizam Rasol won Bronze of the event.
In Men Omnium event, Ashton Lambe of USA added a Silver for himself with 149 points (yesterday he won Gold medal of 4Km Individual Pursuit event). Kazakhstan's Assylkhan Turar secured Gold with 163 points. For Bronze Medal China's Liang Guo earned 135 points.
However India's main gold hope Deborah, who managed to secure the berth for World Cup, lost the medal and finished fifth in her favourite event Keirin.
In Keirin, out of 5 rounds, in last 2.5 rounds cyclists have to defeat through their speed.
China cyclists Shanju Bao and Chaorui Song claimed Gold and Silver respectively. P. Nayana Rajesh who is representing India's second team 'SAINCA' claimed Bronze of this event.