Media persons and social activists across the country have expressed shock and dismay over murder of the fearless journalist. They are expressing their anger on different platform of social media condemning the brutal killing.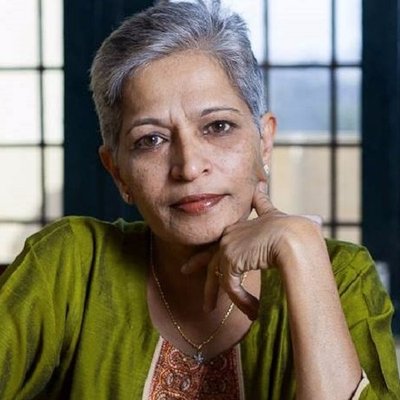 WEB DESK
Senior journalist, writer and activist Gauri Lankesh was shot dead at her residence in Bengaluru today. She was editor of Lankesh Patrike, a famous Kannada tabloid. Gauri Lankesh, was shot dead at her residence in Rajarajeshwari Nagar of the city. She was also columnist for various newspapers in Karnataka. She is the daughter of journalist and writer, P Lankesh.
According to reports unidentified men shot her three times from close range and she collapsed on the spot. Gauri's killing bears striking similarity to the way in which rationalist MM Kalburgi was killed two years ago.
Last year she was convicted for defamation in two cases and sentenced by a Judicial Magistrate First Class court in Hubbali, Karnataka, to six months in jail, along with penalty. However, the court granted her bail immediately and allowed her to appeal to a higher court. With this, she seems to be following the footsteps of her famed father P Lankesh, who started and ran Kannada weekly
In an interview to Narada News in December 2016, she had said, "As a citizen of India, I oppose the BJP's fascist and communal politics. I oppose its misinterpretation of 'Hindu Dharma' ideals. I oppose the caste system of the 'Hindu Dharma', which is unfair, unjust and gender-biased."
"My Constitution teaches me to be a secular citizen, not communal. It is my right to fight against these communal elements," she said.
We condemn murder of senior journalist gauri lankesh. President press club India.
"U can kill, u can silent the voice, But you can't escape from those questions which these silent voices have left" says a message on social media #GauriLankesh