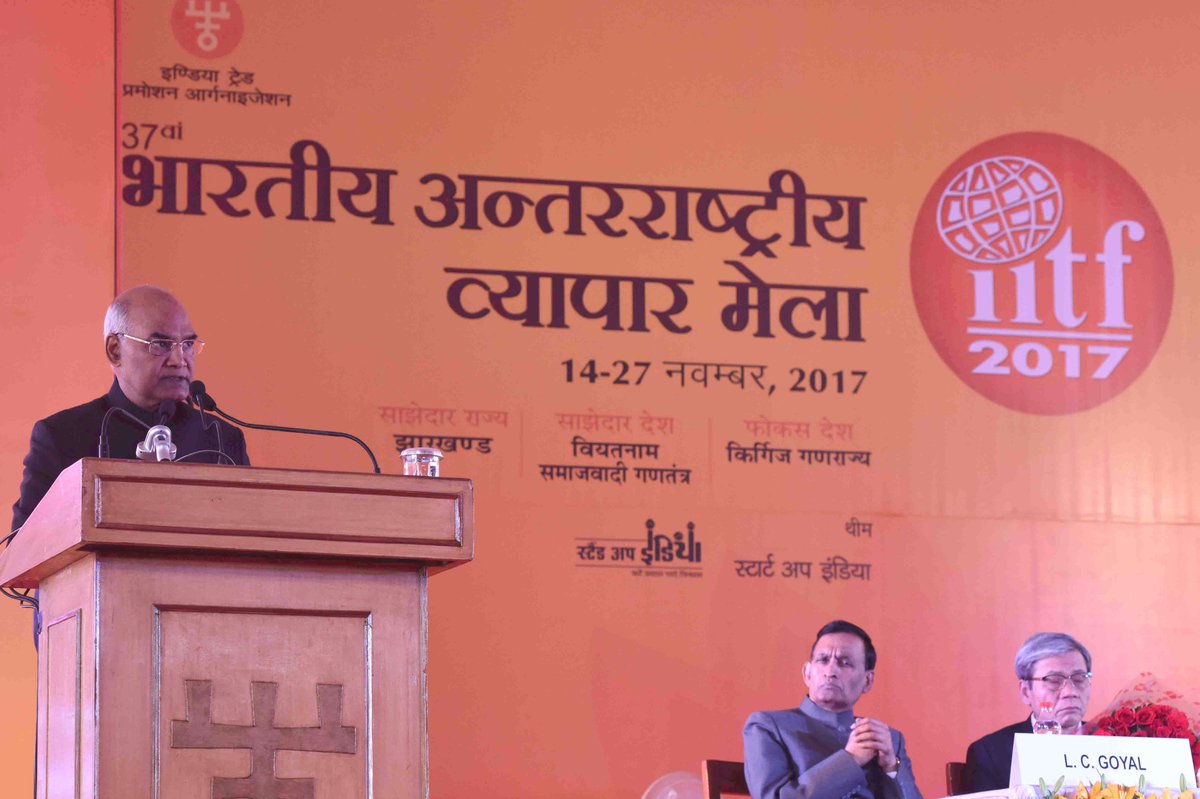 Our Correspondent / NEW DELHI 
The President of India, Ram Nath Kovind today inaugurated the 37th India International Trade Fair (IITF) -2017 in New Delhi.
Speaking on the occasion, the President said that IITF is more than just a trade fair or exhibition.
Commencing every year on November 14, it is a showcase of India on the global stage. It is also a symbol of India's ancient and enduring commitment to international trade.
The President said that instinctively we have been an open society – free to trade winds and cultural exchanges. We have valued a liberal, rules-based international trading order. This is part of our DNA. And this is the legacy that modern India and IITF are building on.
The President said that this year's IITF takes place at a point when India is recognised as one of the bright spots of the global economy. The world has acknowledged the changed business environment in India and the strides made in ease of doing business. The introduction of the Goods and Services Tax has been a milestone. It has broken down barriers between states. It has provided a boost to the creation of a common market and a more formal economy as well as a stronger manufacturing sector. As a result of these efforts, there has been a sharp rise in FDI in the past three years – from US$ 36 billion in 2013-14 to US$ 60 billion in 2016-17.
The theme this year is, 'Startup India Standup India'. Vietnam is the Partner Country, while Kyrgyzstan is the Focus Country. Jharkhand is participating as the Partner State. As many as 7,000 participants from 22 countries will showcase their products ranging from electronics to textiles.
For general public, the trade fair will open from 18th till the 27th of this month. The general tickets will cost 60 rupees for adults and 40 for children on working days. The prices will increase to 120 rupees and 60 rupees on the weekends. The entry of Senior citizens and divyangjan will be free and they can enter from any gate on production of the proof of age and photo ID Card. Tickets will not be sold at IITF sale counters and will be available at all metro stations other than Pragati Maidan. People can visit the fair from 9:30 AM to 7:30 PM.
Tickets for 'business days' visit to the India International Trade Fair (IITF), according to the DMRC are available at 42 Delhi Metro stations. Business visitor registration counters will take place at Gate number one (of Maidan) and the ticket is priced at Rs 500. While talking about the same, DMRC in a statement said, "For the general public, (November 18-27), tickets will be sold from November 18 at the metro stations.
The entry tickets for the general public, however, would be available at all stations, including on the Airport Express Line, except the Pragati Maidan Metro Station." From November 18, the fair will be open to all visitors with a ticket price of Rs 60 for adults and Rs 40 for children. However, on Saturday and Sunday as well as any holiday between November 18-27, the ticket price for adults will be Rs 120 and Rs 60 for children.
The 42 stations include Dilshad Garden, Rithala, ITO, Delhi Gate, Jama Masjid, Janpath, Lajpat Nagar, Govind Puri, Badarpur, Escorts Mujesar, New Delhi, Dhaula Kuan, Sikanderpur, Huda City Centre and Noida City Centre, across all corridors.