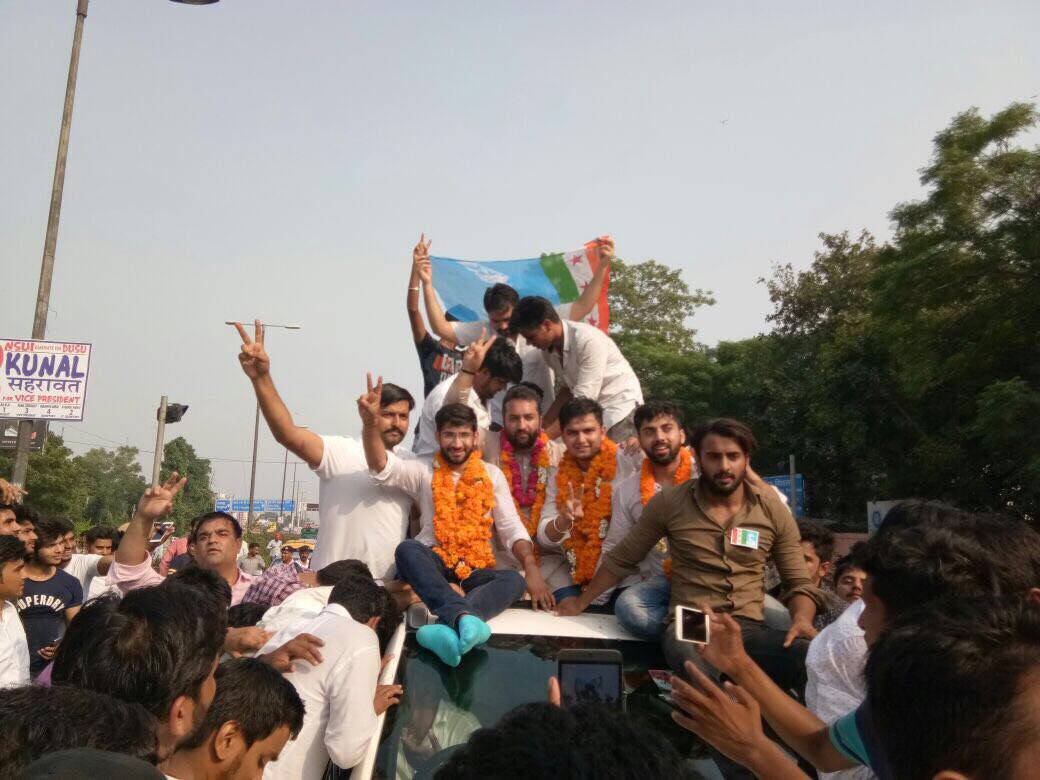 Our Correspondent / New Delhi
National Students Union of India (NSUI) victory at the top post of Delhi University Students' Union (DUSU) elections has given big boost to the congress party.
NSUI – made a stunning comeback in the Delhi University Students' Union (DUSU) elections after a gap of five years, winning the top posts of president and vicepresident.
The DUSU win of the NSUI is a clear sign of change in the air, asserted Congress spokersperson Manish Tewari
NSUI's Rocky Tuseed won the president's position by defeating ABVP's Rajat Choudhary with a margin of 1,590 votes, while Kunal Sehrawat snatched the vice-president's seat from ABVP by 175 votes.
ABVP's Mahamedha Nagar defeated NSUI's Minakshi Meena by 2,624 votes to win the post of secretary while Uma Shankar set aside NSUI's Avinash Yadav by 342 votes
A victorious Congress, of course, was not happy with just two posts; in fact the party alleged that the NSUI was actually winning all the four posts and the Delhi University administration had colluded with the BJP to declare ABVP victorious for secretary and joint secretary posts. "The NSUI will move the court," said Tewari.
BJP sources admit that varsity poll losses reflected a clear intra-party disconnect – a no-trust move in the state unit against Delhi leader Manoj Tiwari and a lack lustre campaign for the prestigious varsity students union polls. It had failed to create adequate tempo for ABVP candidates in the campus.
Congratulations @nsui on a stellar performance & Pres win in DUSU! Thank students of DU for reposing faith in Congress ideology #NSUIWinsDU
Hailing the NSUI victory on two seats out of four posts in Delhi University Students Union polls as 'complete rejection of 'Modinomics' by the youth, the Congress said it would approach the High Court if 'recounting of votes' on two posts is not acceded to by the DUSU election authority.
Addressing mediapersons, Congress spokesperson, Ajay Maken said, 'the win by the NSUI showed that the youth had rejected Prime Minister's oft repeated jargon of 'Clean University Politics'. Congress-NSUI's victory in Rajasthan, Punjab and now Delhi University Student Union elections has proved that the youth has rejected the empty rhetoric of Modiji." Mr Maken also reiterated the Congress call for the recounting of votes for the post of Joint Secretary and secretary as he said the party had come to know from unofficial sources that at the time of counting of votes the cameras were off. But he said it is subject to confirmation.