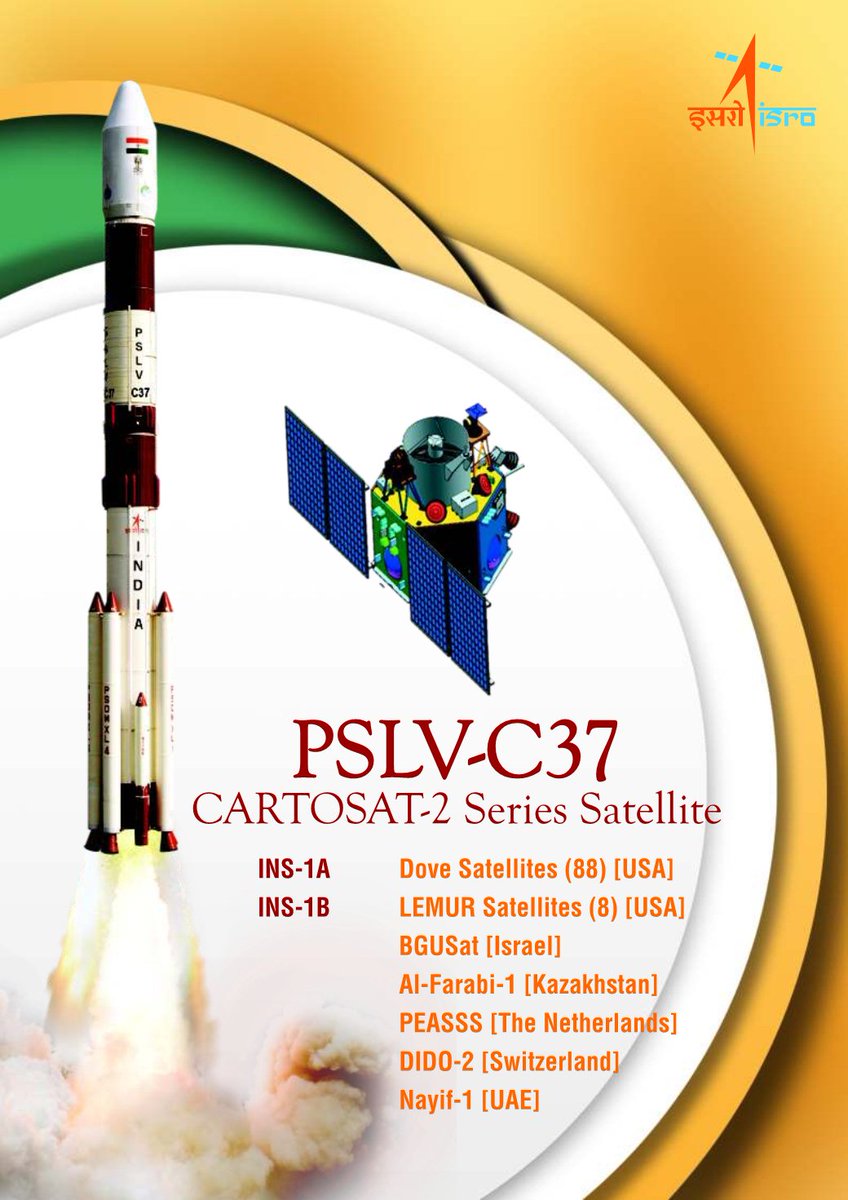 AMN /
Indian Space Research Organisation has created history by injecting a record 104 satellites into orbit in a single launch. ISRO successfully launched 104 satellites including Cartosat-2 on board PSLV-C37 at 9:28 AM this morning from Satish Dhawan Space Centre in Sriharikota.
In a text book launch, the heavy duty rocked blasted off majestically from the First Launch Pad of Satish Dhawan Space Centre. All the satellites were successfully put into a 505 km polar Sun Synchronous Orbit.
Exactly 17 minutes of the launch, Cartosat-2 was separated and a minute later the two ISRO nano satellites were put in the intended orbit. Little later the other 101 nano satellites were injected into intended orbit in pairs.
Last year, ISRO had launched a record 20 satellites at one go.
The highest number of satellites launched in a single mission is 37, a record that Russia set in 2014.
The US space agency, NASA has launched 29.
The 101 international customer nano-satellites are being launched as part of the commercial arrangements between Antrix Corporation Limited (Antrix), the commercial arm of ISRO and the international customers.
Speaking on the record launch, ISRO Chairman Kiran Kumar had earlier said the aim was to maximise the capability with each launch and it was not to set a record.
"We are not looking at it as a record or anything like that; we are just trying to maximise our capability with each launch, in trying to utilise that launch for the ability it has got and getting the maximum return," he had said.
This remarkable feat by @isro is yet another proud moment for our space scientific community and the nation. India salutes our scientists.

Congratulations to @isro for the successful launch of PSLV-C37 and CARTOSAT satellite together with 103 nano satellites!
Let's celebrate the success! Congratulations to #ISRO on the successful launch of PSLV-C37, carrying a record 104 satellites🖒 Jai Hind…

Kudos to team @isro. History created with the successful lunch of #PSLV-C37 & CARTOSAT along with 103 nano satellites. #WorldRecord #ISRO