HARPAL SINGH BEDI / Gurgaon
Amandeep Drall overcame earlier hiccups and shot four-under 68 to emerge sole leader after the second and penultimate round of the fifth leg of the Rs 8 -lakh Hero Women's Professional Golf Tour 2017 at the Classic Golf and Country Club, here today.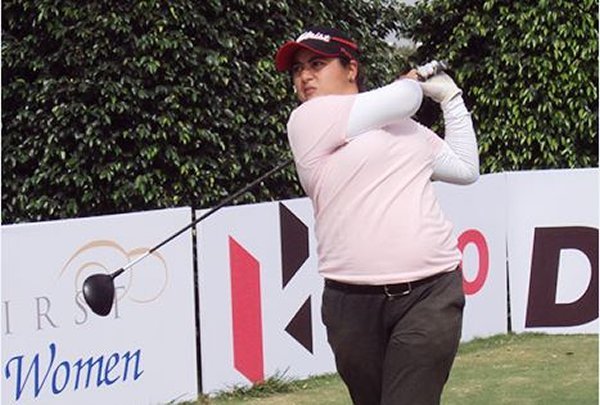 Following the leader at tied second position are Walailak Satarak, Vani Kapoor and Gaurika Bishnoi with identical scores of 141 after 36 holes
Panchkula based Amandeep started with a bogey and dropped another stroke at the eighth hole, but birdies on the third, fourth and ninth helped her neutralise the damage in her front nine.
She played a bogey free back nine, carding birdies on the 10th, 15th and 17th holes to finish with a total score of four under for the day and a total of 139.
Overseas Thai player Walailak, Vani and Gaurika are all tied second with identical scores of 141.
Walailak returned five-under 67 to move up five places after 36 holes. She hit six birdies on the fourth, seventh, 10th, 12th, 16th and 18th holes, with just one bogey on the 11th.In the process she made her intentions clear and could well be the first overseas winner tomorrow of a domestic Tour event.
New Delhi's Vani had a good start, carding a bogey free front nine with birdies on the fifth and sixth holes. On the way in, she carded a bogey and birdie apiece on the 13th and 18th holes respectively to finish her round with a score of two-under 70.
Overnight leader Gaurika carded birdies on the fifth, 12th and 17th, while dropping shots on the second, 10th and 16th to finish with an even par round and tie with Walailak and Vani two shots adrift of the leader.
Amateur Gurjot Badwal and Hero MotoCorp sponsored Sharmila Nicollet are tied fifth with identical scores of 146 after the second round.
Gurjot carded birdies on the fifth, eighth, 11th and 15th, while dropping shots on the first and 16th. Sharmila carded a birdie less round, while dropping a shot on the second.
Jaipur's Afshan Fatima is placed seventh with a total score of 147, followed by amateur Tvesa Malik in eighth position at 148 and Gursimar Badwal in ninth with a score of 149. Ankita Tiwana is at tenth position with a score of 152 after 36 holes.