FIFA 2018: FRANCE IS WORLD CHAMPION BEAT CROATIA 4-2
 The Blues are world champions! 
France win FIFA WORLD CUP in thrilling final with Croatia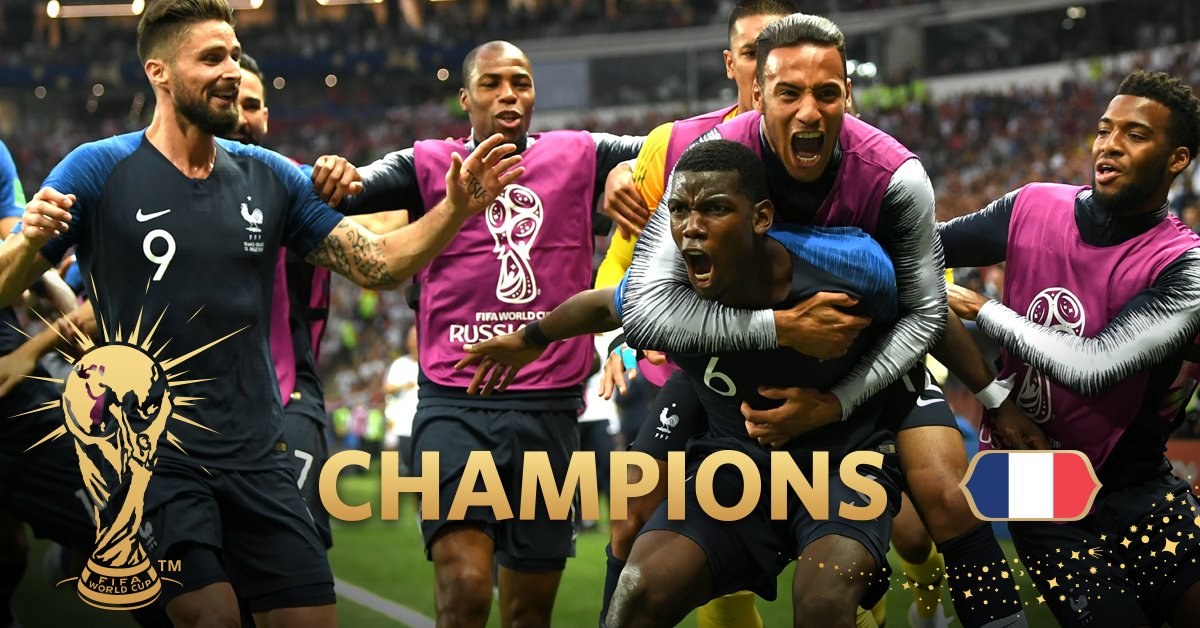 France win World Cup for second time, after winning in 1998
Deschamps third person to win the World Cup as both player & manager
Mandzukic gave France lead with first World Cup final own goal
Pogba & Mbappe score for France before Lloris gifts Mandzukic goal
Valiant Croatia are runners-up, their best-ever World Cup finish
Deschamps becomes third man to win Trophy as player and manager
Well done France, a victory for immigrants as 7 of the French players were from Africa.- Vivek Shukla
Tour d'honneur géant, festivités lancées à Nanterre pour la deuxième étoile ! #FRACRO pic.twitter.com/yWjth0HvUs

— Simon Auffret (@S_Auffret) July 15, 2018
🏆 Congratulations to @equipedefrance / @FrenchTeam as they win their second world title – Félicitations! 🇫🇷#WorldCupFinal pic.twitter.com/GJYDfbWtqD

— HNS | CFF (@HNS_CFF) July 15, 2018
Whole France is jubilant today as it has created history once again. France beat Croatia 4-2 and won the second World Cup in its history. earlier she won the world cup in 1998.
Dominated for a large part of the game, the Blues have almost always led the score. And for that, they enjoyed two firsts at this stage of the competition, which had never been seen in any of the previous twenty editions.
If the Croatians reacted quickly thanks to Ivan Perisic, author of a superb shot, it is another first that changed the course of the meeting: the call to the video assistance to know if the same Perisic was indeed the author of a hand foul in the penalty area. After the French complaints to the referee, Nestor Pitana went to the screen off the field to return a few long seconds later, and give a penalty. Antoine Griezmann did not pray to transform the offering and give an unexpected advantage to his team at half-time (2-1).
Earlier in the tournament, France was the first team to receive a penalty after the call to video refereeing. It was against Australia, and Antoine Griezmann, already, had scored the first French goal of the competition.
In 2014, France was the first to benefit from the goal-line technology to validate a goal from Karim Benzema against Honduras. It was also the first nation to have a golden goal in the World Cup, when Laurent Blanc eliminated Paraguay in the eighth-finals of the 1998 World Cup. The French had also participated in the first session of the World Cup. In 1982, Lucien Laurent scored the first goal in the history of the World Cup against Mexico in 1930.
additional input from FIFA, Le Monde