-Kisan, Mazdoors demand remunerative prices for the peasants as per Swaminathan Committee recommendations; and timely public procurement
-Kisan Mazdoors demand curb price rise; universalise Public Distribution System; ban forward trading in essential commodities.
Our Correspondent / New Delhi
A large number of farmers and workers on Wednesday held a protest rally in the national capital demanding implementation of remunerative prices for farm produce, loan waiver, labour laws and others.
They raised slogans against the government accusing it of ignoring their demands and doing nothing for the farmers.
The Mazdoor Kishan Sangharsh Rally was jointly organized by the Centre of Indian Trade Unions, All India Kisan Sabha and All-India Agricultural Workers' Union.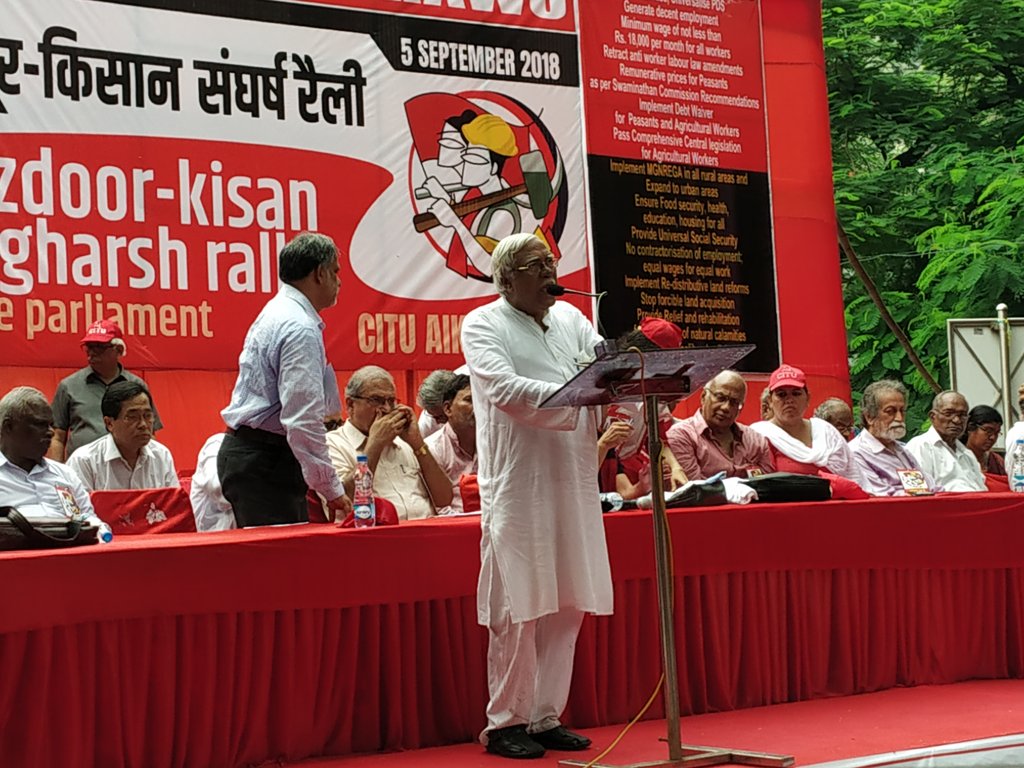 "Ye ghirte kale badal aur ye laal samudra, Modi Sarkar ke liye chunauti hai!" (These swirling dark clouds and this sea of red is a challenge thrown to the Modi government) These slogan were raised by a flag-waving steel worker from Chhattisgarh, summed up the mood of the historic protest march in Delhi by an estimated more than lakh workers, employees, farmers and agricultural workers who had travelled from all corners of the country. The mood was angry and restless, the resolve was steely and the desire for change, fierce. The Mazdoor Kisan Sangharsh Rally was organised by the Centre of Indian Trade Unions (CITU), the All India Kisan Sabha (AIKS) and the All India Agricultural Workers Union (AIAWU).
Under an overcast sky with a brief spell of sunshine, the protesters marched from Ramlila Grounds to Parliament Street, near the seat of the Indian government, their slogans reverberating through the high-rise office buildings and sprawling government complexes. Slogans and placards showed their demands – more jobs, better wages, land for the landless, better prices for crops, loan waivers, control on prices, social security, education and health for all, end to contractorisation and privatisation, and hands off labour laws.
kisan mazdoor Unity and Policy Change
A key feature of this rally was that for the first time, a four-month long joint campaign by workers and peasants was followed by this joint rally in the Capital. This development will have a lasting effect on Indian politics as the combination of three labouring classes – workers, farmers and agricultural labourers – make up over three quarters of the country's population. The unity also – expressly – decried the attempts of RSS/BJP and its multiple associates to divide people on religious and caste lines.
Another key element in today's rally was that the participants were pressing for change in the whole panoply of policies that make up the hated neo-liberal package. Evidently, working people do not want some concessions here and there – they were demanding that the whole framework of pro-corporate pro-rich policies should be abandoned by this – or any future – govt.
Lakhs of workers, farmers and agricultural workers marched on the streets of Delhi under the banner of CITU,AIKS and AIAWU. They announced a programme of escalating actions in coming months to press for change in policies and change in govt. #KisanMazdoorFightBack pic.twitter.com/S6702u3UhY

— CPI (M) (@cpimspeak) September 5, 2018