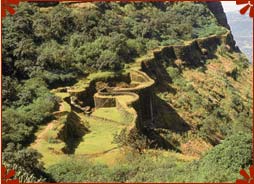 Vinit Wahi / New Delhi
 In order to restore and conserve the historic Raigad Fort, a Memorandum of Understanding would be signed between the Archaeological Survey of India (ASI) and the Government of Maharashtra, informed the Chief Minister, Devendra Fadnavis here.
The Chief Minister was in Delhi to meet the PMO officials to deliberate on State's various development related issues. The Chairman of Raigad Development Authority and RS Member of Parliament, Sambhaji Raje Chhatrapati (Member of the former royal family of Kolhapur and descendant of Chhatrapati Shivaji Maharaj ) was also present during this meet. Director General of ASI, Smt. Usha Sharma, CM's Principal Secretary, and Praveen Pardeshi was also present in this meeting.
Informing the media, the Chief Minister said that a review meeting with regards to the restoration and beautification of the historic Raigad fort will be expedited, once the MoU gets inked. The hill fort in adjoining Raigad district, which once served as the capital of Maratha warrior king Chhatrapati Shivaji's empire would once again regain its authentic look, informed Fadnavis.
The state government has sanctioned a Rs 600 crore development plan for the 17th century fort, situated in Raigad district, informed the chief minister. In order to expedite these works, the chief minister urged for some officers from ASI on deputation basis under this project, during the meet. The PMO has given assurance for appointing these officers and the required assistance in making it a state-of-the-art fort, expressed Fadnavis.
Another important decision to provide Housing to Mumbai's slum dwellers was deliberated in the meeting. Informing on providing housing to the slum dwellers putting up in Mumbai, the chief minister informed that, the government has brought an amendment to Maharashtra Slum Areas Act, 1971, to enable the government to provide houses to 'ineligible' slum dwellers residing in hutments built until January 1, 2011.
Raigad is a hill fort situated in the Mahad, Raigad district of Maharashtra. Shivaji built this fort and made it his capital in 1674 when he was crowned as the King of a Maratha Kingdom which later developed into the Maratha Empire, eventually covering much of western and central India.