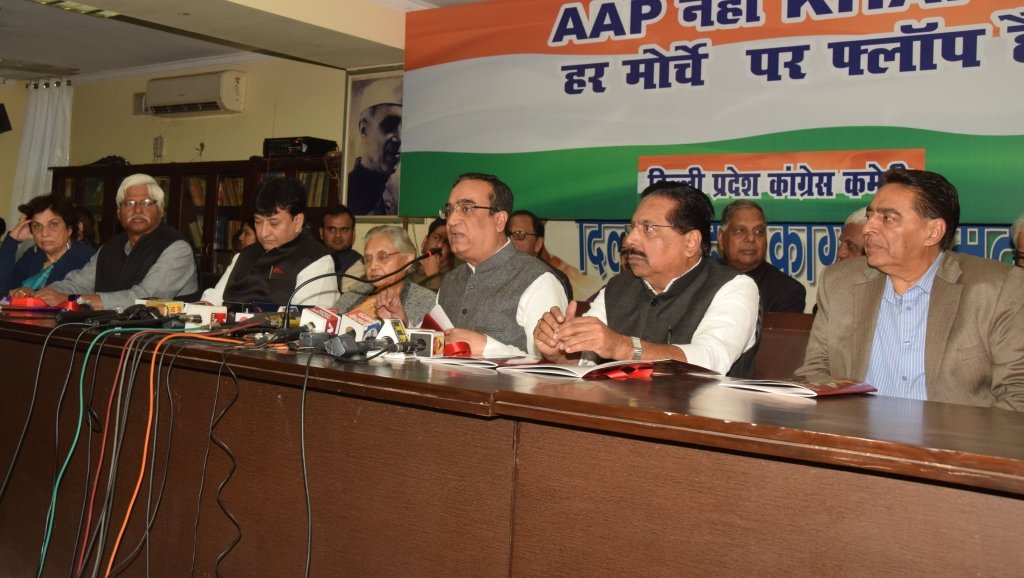 Vinit Wahi /New Delhi
Congress today said that AAP government has ruined Delhi and have failed on all the fronts. It said that "AAP nahi KHAP hai, Har Morche par Flop Hai".
Addressing a press conference on the completion of Aam Aadmi Party's 3 years rules in Delhi Senior Delhi Pradesh Congress leaders including ex-chief minister Sheila Dikshit and its President Ajay Maken said that after 3 years rules, there is no Jan Lokpal, 98 Thousand Students left govt.
"Schools, 111 Dispensaries closed, Record 9,149 deaths in a single year from Respiratory Diseases, Record 1.4 Lakh deaths due to cholera, Diarrhea, Respiratory Diseases and other diseases in a year, Reduced 1,273 Buses from DTC Fleet due to which 54 Cr. passengers stoped travelling in DTC buses, first Metro-III Projects delayed by More than 2Yrs, Metro-IV Projects Seems Nowhere, Increased Metro Fare twice in a year, More than 2 Lakh pension applications pending, within two years water and sewer charges increased thrice" they said.
Maken said that the population of Delhi increases @2.24% per annum, therefore the facilities in public transport, health and education should be increased proportionately whereas, during three years of Kejriwal rule, these facilities had suffered badly which shows the complete failure of Kejriwal Government.
Mrs Dikshit said the administration seems to have collapsed in the entire Delhi and all development activities have come to a halt.She said all the good work done by her government in her 15-year tenure was for everyone to see while the present government has not even be able to maintain that.
Senior Delhi Congress leaders including Subhash Chopra, Dr Narendra Nath, Dr Yoganand Shastri, Sajjan Kumar, Dr A K Walia,Dr Kiran Walia ,Haroon Yusuf were among those present at the dais.